A New Approach on Biomechanics for Functional Training

Organizer

Institute of Human Performance
Juan Carlos Santana, considered one of the most influential experts on Functional Training, author of 17 books that include the translated into 6 languages "Functional Training"; offers an online seminar in which he dares to tackle controversial topics and ask the tough questions most avoid.
The fitness industry continuously produces an overabundance programs, products, and fads, however, the vast majority of trainers and coaches still do not ask themselves the "WHY?" of these methods and products.
JC Santana is one of the leaders of our industry that constantly evolves asking the "WHY?", and often times finds answers very few have even imagined. This is the evolutionary process that is constantly developing at his institute IHP, where high performance athletes and trainers from all over the world come to train and learn.
As an example, the webinar will talk about the practice and training of Weightlifting for the improvement of vertical jump. JC will discuss and teach us why this modality is NOT the best option for the development of vertical jump for so many reasons. It will become obvious that no one has REALLY analyzed the biomechanics of the vertical jumps of sports, because if they had done so, they would not recommend weightlifting to improve the vertical jump.
This and many other myths and traditions will be exposed and analyzed in this webinar so that we can all start examining movement more critically, and base our decision on logic and specific biomechanical analysis, and not "academic" dogma.
After this seminar you will start asking "Why?"
Lecturer
Juan Carlos SantanaIHP Institute
Certification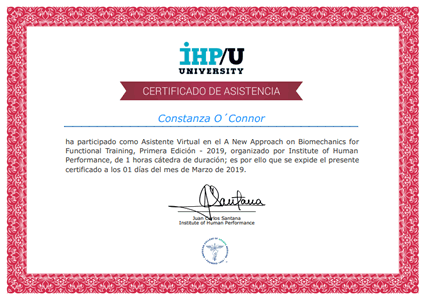 Certificado Final de Asistencia
Institute of Human Performance
Digital Certificate
Este certificado especifica que un alumno ha asistido a una capacitación en particular. Se incluyen los siguientes datos: nombres y apellidos del alumno, nombre de la capacitación, cantidad de horas cátedra y nombre de la organización que certifica.
Scientific Supports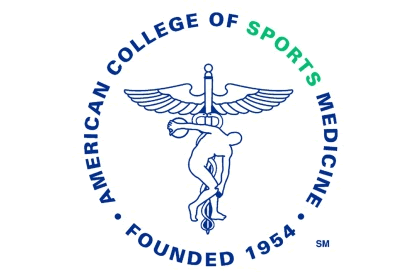 American College of Sports Medicine
Syllabus (1 lecture hours)
If you want to know the complete syllabus, request more information in this form.
Course
1 lecture hours
05/18/2019 ↔ 05/18/2019
A New Approach on Biomechanics for Functional Training
Juan Carlos Santana