Debate: Artropatías Glenohumerales en Pacientes Jóvenes

Organizer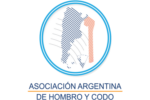 Asociación Argentina de Hombro y Codo
En el marco del Posgrado Internacional en Artroscopía de Hombro y Codo, la Sociedades Argentina y Española de Cirugía de Hombro y Codo, invitan a una mesa de debate sobre un tema controversial: artropatías gleonhumerales en pacientes jóvenes.
La inscripción al evento es gratuita y los participantes podrán descargar certificado de asistencia.
Lecturer
Dr. Daniel MoyaEx presidente de la Sociedad Latinoamericana de Hombro y Codo - Presidente ONLAT
Certification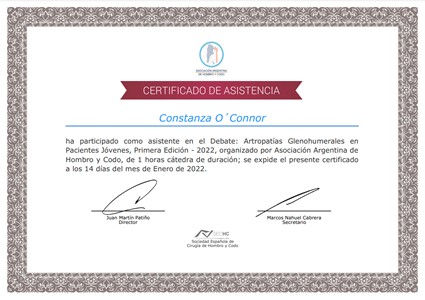 Certificado Final de Asistencia
Asociación Argentina de Hombro y Codo
Digital Certificate
Este certificado especifica que un alumno ha asistido a una capacitación en particular. Se incluyen los siguientes datos: nombres y apellidos del alumno, nombre de la capacitación, cantidad de horas cátedra y nombre de la organización que certifica.
completely online

1 lecture hours
Scientific Supports

Sociedad Española de Cirugía de Hombro y Codo
Syllabus (1 lecture hours)
If you want to know the complete syllabus, request more information in this form.
Course
1 lecture hours
01/18/2022 ↔ 01/18/2022
Debate: Artropatías Glenohumerales en Pacientes Jóvenes
Dr. Daniel Moya