Evaluación Terapéutica Adaptada y Prevención de Lesiones

Organizer

Tecnofits
.Mario Di Santo es un referente en la actividad física, no solo en Argentina sino alrededor del mundo. Es Licenciado y Profesor de Educación Física recibido en el I.P.E.F, donde actualmente es titular en las cátedras de Gimnasia III y IV desde 1989.
Se dedica principalmente al ejercicio físico adaptado y también al entrenamiento de las capacidades cognitivas motoras, y aplica sus conocimientos en un público muy variado, que va desde deportistas de alto rendimiento hasta aquellos que se desempeñan en forma amateur y sin dejar de lado a quienes no están abocados a la parte deportiva.
Mario sostiene que a la educación física la hacen los profesionales que se capacitan, especializan y eligen todos los días repensar y cuestionar su propio quehacer en el ámbito profesional.
Certification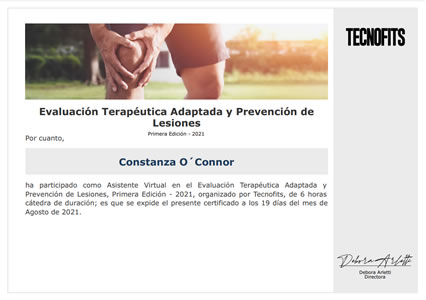 Certificado Final de Asistencia
Tecnofits
Digital Certificate
Este certificado especifica que un alumno ha asistido a una capacitación en particular. Se incluyen los siguientes datos: nombres y apellidos del alumno, nombre de la capacitación, cantidad de horas cátedra y nombre de la organización que certifica.
completely online

6 lecture hours
Syllabus (6 lecture hours)
If you want to know the complete syllabus, request more information in this form.
Course
6 lecture hours
08/31/2021 ↔ 09/18/2021
Evaluación Terapéutica Adaptada y Prevención de Lesiones
Lic. Mario Di Santo