Evidencia y aplicación del Entrenamiento Interválico de Alta Intensidad HIIT en la Rehabilitación del Paciente Cardiovascular

Organizer

NSCA Spain
Revisión de la literatura científica más relevante (1980-2017), sobre el uso y aplicación del HIIT en la rehabilitación cardiovascular (con especial énfasis en la cardiopatía isquémica) desgranando en 20 puntos clave, las conclusiones y aplicaciones más relevantes para con el diseño y control del intervalo que sea sencillo y eficaz de implementar en la práctica diaria de un programa de prevención y rehabilitación cardiovascular.
NSCA Spain concederá 0.4 CEU a los profesionales certificados por NSCA que participen en este webinar.

Lecturer
Lic. Javier Loureiro DíazHeart Hospital & Qatar Rehabilitation Institute. Hamad Medical Corporation (Doha, Qatar) .
Certification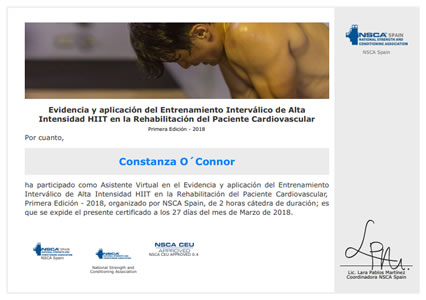 0.4 CEU
NSCA Spain
Digital Certificate
Los alumnos que participen y que estén certificados por NSCA obtendrán 0.4 CEU en su proceso de recertificacion.
completely online

2 lecture hours
Scientific Supports

NSCA Spain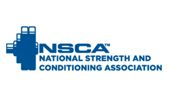 National Strength and Conditioning Association

NSCA CEU APPROVED 0.4
Syllabus (2 lecture hours)
If you want to know the complete syllabus, request more information in this form.
Course
2 lecture hours
10/17/2018 ↔ 10/17/2018
Evidencia y aplicación del Entrenamiento Interválico de Alta Intensidad HIIT en la Rehabilitación del Paciente Cardiovascular
Lic. Javier Loureiro Díaz