Cuida tu Profesión, Trabaja tu Marca Personal

Organizer

NSCA Spain
Transmite tu profesionalidad, cuidando tu marca personal tanto dentro como fuera de la red.
Certification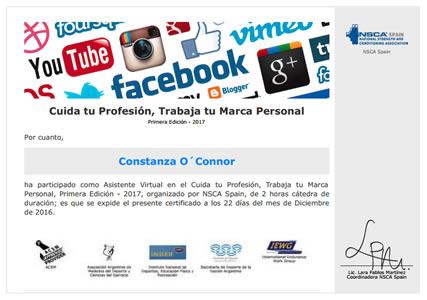 0.4 CEU
NSCA Spain
Digital Certificate
Los alumnos que participen y que estén certificados por NSCA obtendrán 0.4 CEU en su proceso de recertificacion.
completely online

2 lecture hours
Syllabus (2 lecture hours)
If you want to know the complete syllabus, request more information in this form.
Course
2 lecture hours
02/23/2017 ↔ 02/23/2017
Cuida tu Profesión, Trabaja tu Marca Personal
Javier Zamora Saborit

Da unas pautas prácticas a seguir!

Ha estado todo muy Bien

Contenidos claros y aplicables totalmente a la profesión, el exponente un gran experto.