Taller de Antropometría, Nutrición y Entrenamiento para la Hipertrofia

Organizer
DBSS INTERNATIONAL
A través de este taller virtual se pretende brindar a los participantes herramientas valiosas que le permitan hacer un seguimiento detallado, y basado en los últimos avances científicos, en lo que respecta al proceso de hipertrofia muscular, bien sea para fines estéticos, salud o competición. Se hará énfasis en la teoría y práctica de las mediciones antropométricas y su aplicación en la nutrición y el entrenamiento, manejo de software y equipo antropométrico aprobado por la Sociedad Internacional para el Avance en Cineantropometría (ISAK), optimización de las estrategias nutricionales y suplementación para la ganancia de masa muscular y la organización general del entrenamiento para musculación.
Lecturers
Mg. Adrián Arévalo RodríguezUniversidad INCCA de Colombia
Prof. Diego A. Bonilla OcampoResearch Division, DBSS INTERNATIONAL
Lic. Santiago PazoBioforma CEO & Fundador
Certification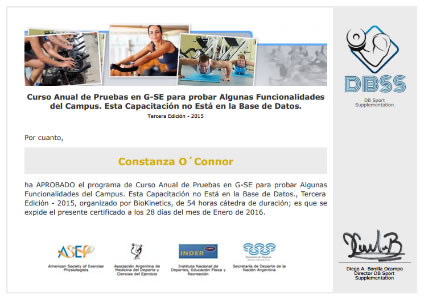 Certificado Final de Asistencia
DBSS INTERNATIONAL
Digital Certificate
Este certificado especifica que un alumno ha asistido a una capacitación en particular. Se incluyen los siguientes datos: nombres y apellidos del alumno, nombre de la capacitación, cantidad de horas cátedra y nombre de la organización que certifica.
Scientific Supports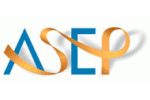 American Society of Exercise Physiologists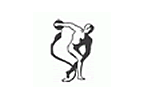 Asociación Argentina de Medicina del Deporte y Ciencias del Ejercicio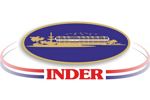 Instituto Nacional de Deportes, Educación Física y Recreación

Secretaría de Deporte, Educación Física y Recreación de la Nación Argentina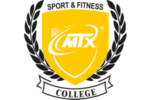 MTX College
Syllabus (20 lecture hours)
If you want to know the complete syllabus, request more information in this form.
Course
20 lecture hours
03/04/2016 ↔ 03/08/2016
Taller de Antropometría, Nutrición y Entrenamiento para la Hipertrofia
Prof. Diego A. Bonilla Ocampo, Lic. Santiago Pazo, Mg. Adrián Arévalo Rodríguez, Lic. Santiago Pazo, Mg. Adrián Arévalo Rodríguez