Webinar de Aplicación del Ejercicio de Alta Intensidad a los Programas de Pérdida de Peso

Organizer

NSCA Spain
Se explicarán los conceptos básicos de los métodos de alta intensidad y se describirán los proyectos y trabajos que han aplicado estas técnicas a programas de pérdida de peso, objetivando las ventajas e inconvenientes de estas metodologías.
Certification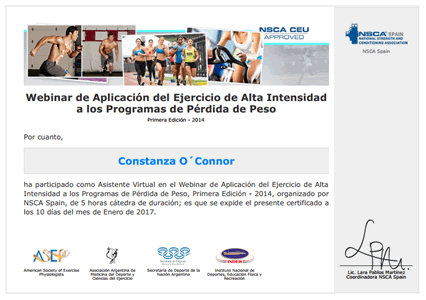 0.4 CEU
NSCA Spain
Digital Certificate
Los alumnos que participen y que estén certificados por NSCA obtendrán 0.4 CEU en su proceso de recertificacion.
completely online

5 lecture hours
Scientific Supports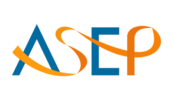 American Society of Exercise Physiologists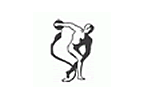 Asociación Argentina de Medicina del Deporte y Ciencias del Ejercicio

Secretaría de Deporte, Educación Física y Recreación de la Nación Argentina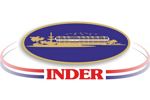 Instituto Nacional de Deportes, Educación Física y Recreación
Syllabus (5 lecture hours)
If you want to know the complete syllabus, request more information in this form.
Course
5 lecture hours
12/05/2014 ↔ 12/05/2014
Webinar de Aplicación del Ejercicio de Alta Intensidad a los Programas de Pérdida de Peso
Dr. Pedro J. Benito

El audio con el video no va de la mano.

Bastante descompasado el audio con el video, dificulta su seguimiento

Aporta poco, en 2 horas se podría ser más práctico.

100% recomendable a todo el mundo

Información completa e interesante. El sonido atrasado con respecto a las imágenes no permite que se desarrolle de forma óptima. No hay certificación en el Webinar.