Iniciación a la Actividad Física y el Deporte Adaptado

Organizer

Instituto Superior de Salud Activa
Durante la realización de éste Webinar el alumno tendrá la oportunidad de conocer, con la ayuda de reconocidos profesionales del sector, el origen y estructuras organizativas del deporte adaptado, así como su contexto paralímpico y ejemplos de algunos de ellos.
Lecturers
Lic. Ángel Luis Camacho CovesUniversidad de Granada
Mg. Carlos Samper GaraizábalUniversidad Camilo José Cela de Madrid
Certification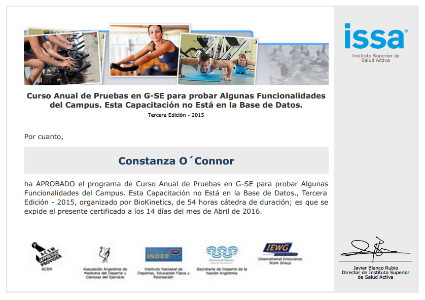 Certificado Final de Asistencia
Instituto Superior de Salud Activa
Digital Certificate
Este certificado especifica que un alumno ha asistido a una capacitación en particular. Se incluyen los siguientes datos: nombres y apellidos del alumno, nombre de la capacitación, cantidad de horas cátedra y nombre de la organización que certifica.
completely online

4 lecture hours
Syllabus (4 lecture hours)
If you want to know the complete syllabus, request more information in this form.
Course
4 lecture hours
05/17/2016 ↔ 05/17/2016
Iniciación a la Actividad Física y el Deporte Adaptado
Lic. Ángel Luis Camacho Coves, Mg. Carlos Samper Garaizábal