Webinar de Actualización Sobre el Consumo de Creatina

Organizer

Fuerza y Nutrición Deportiva
Actualmente, el monohidrato de creatina es uno de los suplementos más difundidos y utilizados en el mundo del deporte. La suplementación con creatina junto a un entrenamiento adecuado produce un efecto amplificador del rendimiento que tiende a mejorar la ganancia de masa muscular y la fuerza. Además puede facilitar la mejora de la velocidad de los procesos de recuperación y retardar la fatiga, contribuyendo a la estabilidad de las membranas celulares y atenuando el daño celular.
Para ampliar y actualizarte más sobre este tema te invitamos a este Webinar en diferido donde encontrarás la revisión más actualizada basada en los últimos estudios científicos y dictada por el Dr Fernando Naclerio de la Universidad de Greenwich (Reino Unido)
Lecturer
Dr. Fernando Naclerio, PhD, CSCS, CISSN, AfN RNutritionistUniversity of Greenwich. United Kingdom
Certification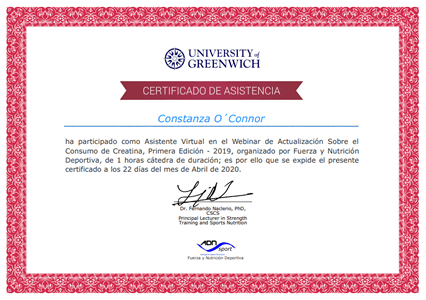 Certificado Final de Asistencia
University of Greenwich
Digital Certificate
Este certificado especifica que un alumno ha asistido a una capacitación en particular. Se incluyen los siguientes datos: nombres y apellidos del alumno, nombre de la capacitación, cantidad de horas cátedra y nombre de la organización que certifica.
completely online

1 lecture hours
Scientific Supports

Fuerza y Nutrición Deportiva
Syllabus (1 lecture hours)
If you want to know the complete syllabus, request more information in this form.
Course
1 lecture hours
06/29/2019 ↔ 06/29/2019
Webinar de Actualización Sobre el Consumo de Creatina
Dr. Fernando Naclerio, PhD, CSCS, CISSN, AfN RNutritionist, Dr. Fernando Naclerio, PhD, CSCS, CISSN, AfN RNutritionist