Webinar de Actualización: Mecanismos de Hipertrofia Muscular, Hormonas y Suplementos

Organizer

MD Training
Webinar de actualización que brinda los conceptos actuales sobre los mecanismos fisiológicos y biomecánicos para lograr la hipertrofia muscular basados en la individualidad, la carga del entrenamiento, la respuesta hormonal, así como la nutrición y el uso de suplementos.
Es importante seleccionar, analizar y filtrar toda esa nueva información para combinarla con la experiencia y aplicar las mejores estrategias metodológicas para lograr el desarrollo e hipertrofia muscular ya sea con objetivos estéticos generales o de bienestar, como en el fitness; o de salud como en el caso del paciente con sobrepeso y obesidad o en el adulto mayor para combatir la sarcopenia y mejorar la calidad y pronóstico de vida; o en el fisiculturista aficionado o competitivo para lograr mejores resultados.

Lecturers
Mg. Rafael Ernesto Avella Chaparro
Mg. Lezza Marcela Durán HernándezInternational Society Of Sports Nutrition. Ex-asesora de Gatorade para Colombia
Dr. CÉSAR GIOVANNI GARCÍA CARDONAMD Especialista en Medicina del Deporte Universidad Nacional de Colombia
Lic. José Luis Rodriguez OyolaUniversidad Libre de Bogota
Certification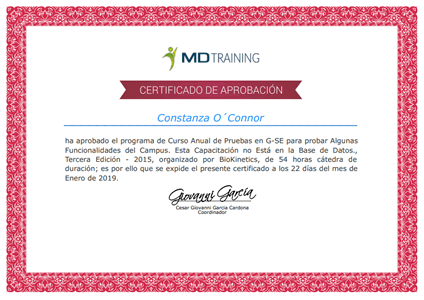 Certificado Final de Asistencia
MD Training
Digital Certificate
Este certificado especifica que un alumno ha asistido a una capacitación en particular. Se incluyen los siguientes datos: nombres y apellidos del alumno, nombre de la capacitación, cantidad de horas cátedra y nombre de la organización que certifica.
completely online

3 lecture hours
Scientific Supports

Asociación colombiana de ejercicio, salud y fitness

MD Training
Syllabus (3 lecture hours)
If you want to know the complete syllabus, request more information in this form.
Course
3 lecture hours
02/20/2021 ↔ 02/20/2021
Webinar de Actualización: Mecanismos de Hipertrofia Muscular, Hormonas y Suplementos
Dr. CÉSAR GIOVANNI GARCÍA CARDONA, Mg. Lezza Marcela Durán Hernández, Mg. Rafael Ernesto Avella Chaparro, Lic. José Luis Rodriguez Oyola