Webinar de Actualización en Prevención y Rehabilitación Deportiva I

Organizer

MD Training
Dado los diversos beneficios de la actividad física, en la actualidad es cada vez mayor el número de personas que practican ejercicio por salud o bienestar ,como herramienta terapéutica o como práctica deportiva; muchas de ellas sin las debidas precauciones o sin la orientación de algún profesional en estas áreas.

Este Webinar, como parte de un ciclo de actualización, nos muestra el enfoque usado actualmente en los principales centros de rehabilitación deportiva y clubes deportivos en prevención y manejo de lesiones deportiva. En esta primera parte nos enfocaremos en Prevención de lesiones, ejercicios excéntricos en prevención y tratamiento, tendinopatias I y manejo de la pubalgia, desde la experiencia de un grupo interdisciplinario de médicos del deporte y fisioterapeutas. Incluye un libro en PDF y material de lectura seleccionado.
Lecturers
Dr. CÉSAR GIOVANNI GARCÍA CARDONAMD Especialista en Medicina del Deporte Universidad Nacional de Colombia
Nuri Angelica Neira TolosaEspecialista en Fisioterapia Deportiva. Universidad Complutense de Madrid
Andrés Silva BastidasFisioterapeuta Universidad complutense de Madrid, U. Manuela Beltrán.
Certification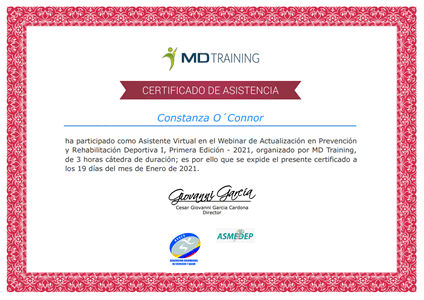 Certificado Final de Asistencia
MD Training
Digital Certificate
Este certificado especifica que un alumno ha asistido a una capacitación en particular. Se incluyen los siguientes datos: nombres y apellidos del alumno, nombre de la capacitación, cantidad de horas cátedra y nombre de la organización que certifica.
completely online

3 lecture hours
Scientific Supports

Asociación colombiana de ejercicio, salud y fitness

Asociación de Especialistas en Medicina aplicada a la Actividad Física y el Deporte
Syllabus (3 lecture hours)
If you want to know the complete syllabus, request more information in this form.
Course
3 lecture hours
02/27/2021 ↔ 02/27/2021
Webinar de Actualización en Prevención y Rehabilitación Deportiva I
Dr. CÉSAR GIOVANNI GARCÍA CARDONA, Andrés Silva Bastidas, Nuri Angelica Neira Tolosa

La verdad no la pude hacer, tenían problema nose si de conexión o que pero no se escuchaba nada