Apertura y Presentación Tecnicatura de Surf - Nivel 1

Organizer

JOG Sport
El Surf es cada vez mas popular, y quienes se acercan toman unas clases y en general siguen solos con muchos vicios sin recibiendo consejos de muchos idóneos, haciendo muy difícil su progreso ante todas las variables que el mismo deporte presenta. Cada vez mas se hace necesaria una persona que tenga el conocimiento acerca de cómo enseñar al principiante las habilidades necesarias.
Nuestro objetivo principal es introducirlos dentro de la capacitación " Tecnicatura de Surf - Nivel 1" que buscará plasmar un método de enseñanza seguro y avanzado, que sirva de fuente para que un futuro instructor pueda aprender a organizar planes de enseñanza satisfaciendo las necesidades específicas de cada alumno.
Lecturers
Prof. Jorge O. Gonzalez GuedesEspecialista en Movimiento
Lic. Nicolas LapridaUSAL
Prof. Sergio Magnani, PhDargentina
Martin Passeri
Certification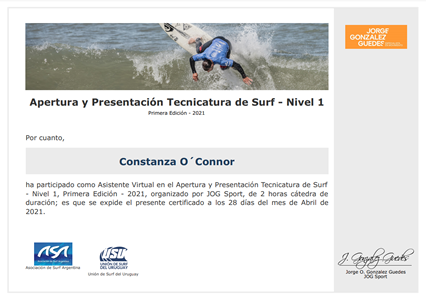 Certificado Final de Asistencia
JOG Sport
Digital Certificate
Este certificado especifica que un alumno ha asistido a una capacitación en particular. Se incluyen los siguientes datos: nombres y apellidos del alumno, nombre de la capacitación, cantidad de horas cátedra y nombre de la organización que certifica.
completely online

2 lecture hours
Scientific Supports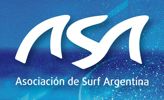 Asociación de Surf Argentina

Unión de Surf del Uruguay
Syllabus (2 lecture hours)
If you want to know the complete syllabus, request more information in this form.
Course
2 lecture hours
04/30/2021 ↔ 05/01/2021
Apertura y Presentación Tecnicatura de Surf - Nivel 1
Prof. Jorge O. Gonzalez Guedes, Martin Passeri, Lic. Nicolas Laprida, Prof. Sergio Magnani, PhD, Martin Passeri