Cluster Training: Organización para Hipertrofia Muscular

Organizer

Ciencias del Ejercicio
En este webinar hablaremos de que es el Cluster Training, como surgió, como se organiza, que bases científicas tiene. En definitiva, como podemos sacarle más provecho cuando nuestro objetivo es la hipertrofia muscular. A pesar de las pocas investigaciones científicas que tenemos si que hay datos indirectos suficientes que nos informan la manera más coherente de gestionar nuestras sesiones bajo este objetivo.
Lecturer
Prof. Salvador Vargas MolinaEADE-University of Wales Trinity Saint David
Certification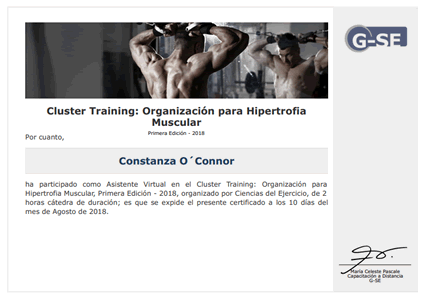 Certificado Final de Asistencia
G-SE
Digital Certificate
Este certificado especifica que un alumno ha asistido a una capacitación en particular. Se incluyen los siguientes datos: nombres y apellidos del alumno, nombre de la capacitación, cantidad de horas cátedra y nombre de la organización que certifica.
completely online

2 lecture hours
Syllabus (2 lecture hours)
If you want to know the complete syllabus, request more information in this form.
Course
2 lecture hours
08/11/2018 ↔ 08/11/2018
Cluster Training: Organización para Hipertrofia Muscular
Prof. Salvador Vargas Molina