Curso en Entrenamiento del Core aplicado a Rehabilitación y Acondicionamiento

Organizer

MD Training
El fortalecimiento del CORE ha demostrado ser eficaz e la prevención de lesiones osteomusculares, en la rehabilitación deportiva y en el acondicionamiento físico y deporte. Sin embargo es fundamental conocer sus bases científicas, la forma de evaluar el desempeño de estos músculos, conocer , aplicar e interpretar adecuadamente los test de CORE así como diseñar e implementar programas de fortalecimiento del CORE de forma eficaz, individualizada con la debida progresión de acuerdo a las necesidades de nuestro deportista , usuario o paciente.
El taller esta diseñado para presentar los fundamentos teóricos de forma clara y actualizada, así como para explicar y mostrar los diferentes test utilizados para evaluar el CORE de los usuarios detallando los de mayor aplicación practica e ilustrando la forma de usar los resultados de los mismos para diseñar programas de estabilidad y fortalecimiento del CORE.
El mismo será dictado por el Dr. César Giovanní García, Médico Especialista en Medicina del Deporte y quien forma parte de la Unidad de Ciencias Aplicadas del Instituto Distrital de Recreación y Deporte de Bogotá. Asimismo se ha desempeñado durante 15 años en la cadena de gimnasios más importantes de latinoamérica, donde lideró importantes proyectos de capacitación.
Lecturer
Dr. CESAR GIOVANNI GARCIA CARDONA, MDuniversidad nacional de Colombia
Certification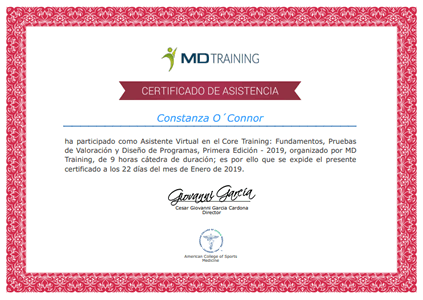 Certificado Final de Asistencia
MD Training
Digital Certificate
Este certificado especifica que un alumno ha asistido a una capacitación en particular. Se incluyen los siguientes datos: nombres y apellidos del alumno, nombre de la capacitación, cantidad de horas cátedra y nombre de la organización que certifica.
Scientific Supports

MD Training
Syllabus (6 lecture hours)
If you want to know the complete syllabus, request more information in this form.
Course
6 lecture hours
05/14/2020 ↔ 05/28/2020
Curso en Entrenamiento del Core aplicado a Rehabilitación y Acondicionamiento
Dr. CESAR GIOVANNI GARCIA CARDONA, MD

Excelente!

Excelente información, muy bien explicada y un excelente ponente.

Excelente curso, me encanto