Curso de Bases Funcionales del Rendimiento

Organizer

JOG Sport
Jorge Oscar González Guedes, especialista en planificación y puesta en marcha de procesos de acondicionamiento físico en seleccionados de Natación, Esqui Náutico y Wakeboard; y en programas de entrenamiento de la fuerza para atletas del Centro Nacional de Alto Rendimiento Deportivo en Argentina (CeNARD), nos presenta esta capacitación pensada y estructurada para entender, observar y evaluar a nuestros entrenados o deportistas, en cualquier deporte o actividad.
El mismo se fundamenta en la mejora de las pautas del movimiento y el control motor como clave para prevención de lesiones y mejorar el rendimiento del deportista, tanto a entrenados principiantes como deportistas avanzados

Esta capacitación se asienta como el modulo inicial del "Curso de Bases Funcionales del Rendimiento Orientadas a los Deportes Acuáticos", permitiendo comprender y trabajar en todo tipo de deportista sin necesidad de ser exclusivo a un deporte acuáticos.
Al finalizar el mismo, se espera que el participante pueda observar, evaluar y medir los progresos de su entrenado, aplicando una metodología de trabajo que será de utilidad en cualquier nivel.
Lecturer
Prof. Jorge O. Gonzalez GuedesResponsable de las Evaluaciones Funcionales de Selecciones Nacionales
Target Audience
Entrenadores, Profesores, Técnicos en Actividad Fisica, Estudiantes y coordinadores de equipo.
Certification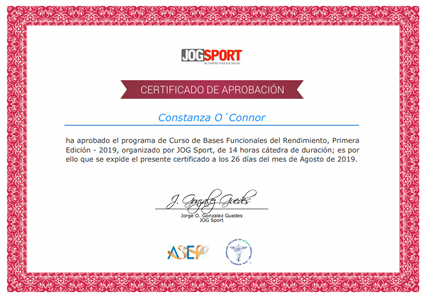 Certificado Final de Aprobación
JOG Sport
Digital Certificate
Este certificado especifica que un alumno ha realizado todas las evaluaciones y ha aprobado una capacitación en particular. Se incluyen los siguientes datos: nombres y apellidos del alumno, nombre de la capacitación, cantidad de horas cátedra y nombre de la organización que certifica.
Scientific Supports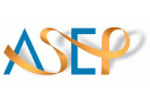 American Society of Exercise Physiologists
Syllabus (18 lecture hours)
If you want to know the complete syllabus, request more information in this form.
Course
14 lecture hours
11/01/2019 ↔ 12/01/2019
Movimiento
Prof. Jorge O. Gonzalez Guedes
Introducción a las Evaluaciones Funcionales
Prof. Jorge O. Gonzalez Guedes
Observación Funcional Simple
Prof. Jorge O. Gonzalez Guedes
Evaluaciones funcionales relacionadas con la movilidad
Prof. Jorge O. Gonzalez Guedes