Curso en Construcción de un Equipo de Basquetbol y su Filosofía

Organizer

Casalánguida Staff
Este curso se basa en el conjunto de lineamientos de juego que propone el Prof. Nicolás Casalánguida, quien tiene 11 años de experiencia profesional en la Liga Nacional Argentina y 6 años integrando el staff del Seleccionado Nacional de Argentina, para conducir un equipo de basquetbol.
El curso contará con 10 encuentros en vivo con el docente, donde se desarrollarán todos los temas programados, se analizarán vídeos desarrollados exclusivamente para este curso por el entrenador Elian Villafan, y donde se abarcarán algunos de los siguientes conceptos:
Cómo atacar y defender situaciones claves a la hora de plantear un juego.
Los beneficios que aportan al scouting y desarrollo de los basquetbolistas y los equipos.
El uso de las tecnologías aplicadas al mejoramiento del trabajo individual y colectivo.
Aspectos tácticos y psicológicos.
Defensas a jugadores estrellas.
Analisis y aspectos del final four de la Euroliga 2019.
El programa proveerá un bagaje conceptual acorde a lo que necesita un entrenador para elaborar un plan cuyo objetivo sea liderar equipos competitivos en distintos niveles, desde la formación hasta el nivel superior o nivel profesional.

Target Audience
Entrenadores activos y aspirantes a ser entrenadores en America o Europa
Formadores y Asistentes tanto en rama Masculina como Femenina
Staff técnico que quiera entender, perfeccionar o profundizar sobre técnicas del deporte.
Certifications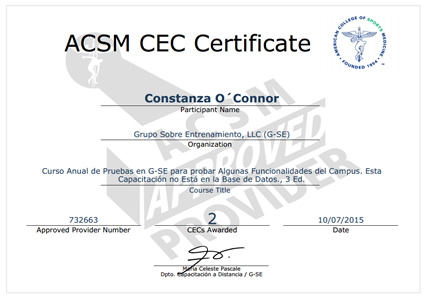 ACSM CEC Certificate
American College of Sports Medicine
Digital Certificate
Certificado provisto por el Colegio Americano de Medicina del Deporte (ACSM) para otorgar Créditos de Educación Continua (CECs) a quienes sean ACSM Certified Personal Trainers, ACSM Certified Group Exercise Instructors, ACSM Certified Exercise Physiologists o tengan otro certificado otorgado por ACSM.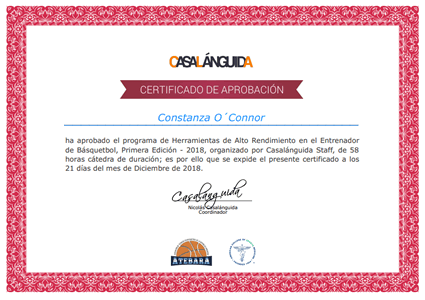 Certificado Final de Aprobación
Casalánguida Staff
Digital Certificate
Este certificado especifica que un alumno ha realizado todas las evaluaciones y ha aprobado una capacitación en particular. Se incluyen los siguientes datos: nombres y apellidos del alumno, nombre de la capacitación, cantidad de horas cátedra y nombre de la organización que certifica.
Scientific Supports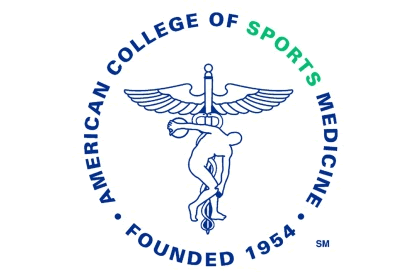 American College of Sports Medicine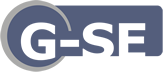 G-SE
Syllabus (69 lecture hours)
If you want to know the complete syllabus, request more information in this form.
Module 1
32 lecture hours
06/20/2019 ↔ 07/21/2019
Filosofía y modelo de trabajo
Nicolás Casalánguida
Juego por conceptos aplicable en distintos niveles
Nicolás Casalánguida
Atacar las distintas formas
Nicolás Casalánguida
Acciones de juego para buscar ventajas de esta acción
Nicolás Casalánguida
Analisis Final Four de la Euroliga 2019
Nicolás Casalánguida
Module 2
34 lecture hours
07/21/2019 ↔ 08/25/2019
Entrenamiento del 1vs1 ​
Nicolás Casalánguida
​Transición defensiva
Nicolás Casalánguida
Next, Step, Fondo, Blue
Nicolás Casalánguida
​Scouting
Nicolás Casalánguida
Jugadores Estrellas
Nicolás Casalánguida