Curso de Fisiología del Ejercicio

Organizer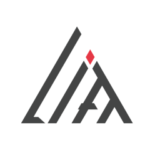 LIFT
La fisiología del ejercicio se encuentra en constante cambio y evolución. Resulta menester para los profesionales de las ciencias del ejercicio no sólo mantenerse actualizados en esta temática sino también tener un enfoque práctico sólido de los conocimientos teóricos y una aplicación en el campo.
Nos centraremos en analizar en profundidad las bases moleculares, bioquímicas y celulares que permiten comprender los mecanismos de regulación y adaptaciones inducidos por el ejercicio, como así también las respuestas fisiológicas a los diferentes estímulos.

En este curso se enseñarán:
Principios Generales de la fisiología del ejercicio.
Bases bioquímicas de los sistemas energéticos.
Fundamentos moleculares del tejido muscular
Nociones sobre modelos que explican la fatiga
Principios Fundamentales de los hitos fisiológicos mas relevantes
Aplicaciones prácticas de la fisiología del ejercicio
Lecturer
Lic. Leandro Carbone, MScUniversidad del Salvador
Target Audience
Nutricionistas, Preparadores Físicos, Médicos, Entrenadores, estudiantes de ciencias de salud y deporte.
Certification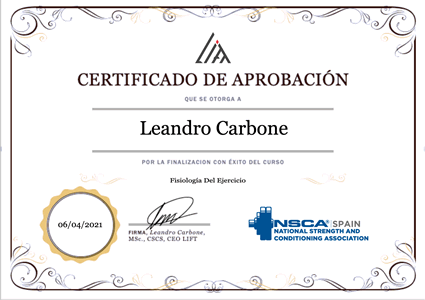 Certificado Final de Aprobación
LIFT
Digital Certificate
Este certificado especifica que un alumno ha realizado todas las evaluaciones y ha aprobado una capacitación en particular. Se incluyen los siguientes datos: nombres y apellidos del alumno, nombre de la capacitación, cantidad de horas cátedra y nombre de la organización que certifica.
completely online

30 lecture hours
Scientific Supports

LIFT

NSCA Spain
Syllabus (30 lecture hours)
If you want to know the complete syllabus, request more information in this form.
Course
30 lecture hours
05/01/2021 ↔ 12/31/2021
1. Sistemas Energéticos Y Metabolismo
Lic. Leandro Carbone, MSc
1.1 - Termodinámica y Bioenergética
Lic. Leandro Carbone, MSc
1.2 - Metabolismo De Los Fosfágenos
Lic. Leandro Carbone, MSc
1.3 - Metabolismo De Los Carbohidratos
Lic. Leandro Carbone, MSc
1.4 - Metabolismo De Las Grasas
Lic. Leandro Carbone, MSc
1.5 - Vías De Señalización Celular
Lic. Leandro Carbone, MSc
1.6 - Mitocondrias Como Ejes De La Regulación Metabólica
Lic. Leandro Carbone, MSc
1.7 - Control Circadiano Del Metabolismo
Lic. Leandro Carbone, MSc
2. Fisiología Muscular
Lic. Leandro Carbone, MSc
2.1 - Estructura Del Músculo Esquelético
Lic. Leandro Carbone, MSc
2.2 - Citoarquitectura Muscular
Lic. Leandro Carbone, MSc
2.3 - Función Del Músculo Esquelético
Lic. Leandro Carbone, MSc
2.4 - Síntesis y Degradación De Proteínas
Lic. Leandro Carbone, MSc
2.5 - Adaptaciones Estructurales
Lic. Leandro Carbone, MSc
2.6 - Adaptaciones Arquitectónicas
Lic. Leandro Carbone, MSc
2.7 - Adaptaciones Neurales
Lic. Leandro Carbone, MSc
3. Aplicaciones Prácticas
Lic. Leandro Carbone, MSc
3.1 - Bases Fisiológicas De La Fatiga
Lic. Leandro Carbone, MSc
3.2 - VO2 Máx
Lic. Leandro Carbone, MSc
3.3 - Umbral De Lactato y MLSS
Lic. Leandro Carbone, MSc
3.4 - Economía De Carrera
Lic. Leandro Carbone, MSc
3.5 - Bases Fisiológicas del HIIT
Lic. Leandro Carbone, MSc
3.6 - Sprint y COD
Lic. Leandro Carbone, MSc
3.7 - Evaluaciones y Monitoreo
Lic. Leandro Carbone, MSc