Curso Introductorio al Entrenamiento, la Fuerza y la Resistencia

Organizer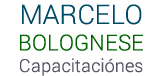 Marcelo Bolognese Capacitaciones
Utilizando YouTube podemos hoy copiar y pegar cualquier tipo de entrenamiento, método enlatado, y medios modernos, pero claro está que ésto carece de todo análisis, pensamiento crítico y decisiones inteligentes, si no conocemos los procesos de entreno y sobre todo de recuperación según el caso.
Con este curso comenzaremos a entender a las ciencias del entrenamiento, explicando y aplicando de manea clara y precisa los procesos de entreno. QUÉ, CUÁNDO, CUÁNTO Y CÓMO debemos observar a nuestro entrenado según sea su objetivo (estético, salud o rendimiento) y sobre todo teniendo en cuenta las características del mismo, edad, sexo, descanso, entrenamientos previos, etcétera.
Target Audience
Estudiantes y aquellos que se interesen en aprender las bases del ejercicio físico.
Certifications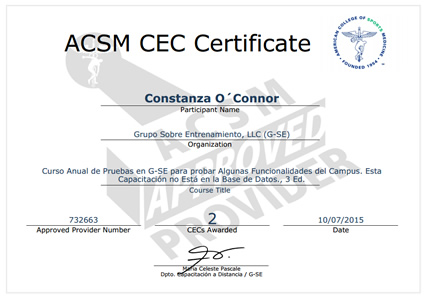 ACSM CEC Certificate
American College of Sports Medicine
Digital Certificate
Certificado provisto por el Colegio Americano de Medicina del Deporte (ACSM) para otorgar Créditos de Educación Continua (CECs) a quienes sean ACSM Certified Personal Trainers, ACSM Certified Group Exercise Instructors, ACSM Certified Exercise Physiologists o tengan otro certificado otorgado por ACSM.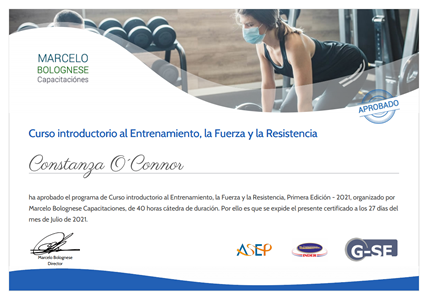 Certificado Final de Aprobación
Marcelo Bolognese Capacitaciones
Digital Certificate
Este certificado especifica que un alumno ha realizado todas las evaluaciones y ha aprobado una capacitación en particular. Se incluyen los siguientes datos: nombres y apellidos del alumno, nombre de la capacitación, cantidad de horas cátedra y nombre de la organización que certifica.
Starting... 8 days to enroll
completely online

40 lecture hours
Scientific Supports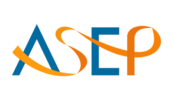 American Society of Exercise Physiologists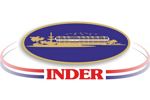 Instituto Nacional de Deportes, Educación Física y Recreación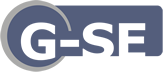 G-SE
Syllabus (40 lecture hours)
If you want to know the complete syllabus, request more information in this form.
Course
40 lecture hours
09/20/2021 ↔ 11/05/2021
Bases del entrenamiento
Mg. Marcelo Bolognese
Bases de la fuerza
Mg. Marcelo Bolognese
Bases de la Resistencia
Mg. Marcelo Bolognese
Consultoría Práctica
Mg. Marcelo Bolognese