Curso Universitario de Especialización en Captación, Desarrollo y Gestión del Talento en Fútbol

Organizer

Total Agents Sport
A través del Curso Universitario de Especialización en Captación, Desarrollo y Gestión del Talento en Fútbol, los estudiantes adquieren los conocimientos fundamentales y especializados sobre metodologías de la captación y formación, desarrollo y gestión de talentos en el futbol.

Atención: esta capacitación se cursa (se desarrolla) en el campus virtual de Total Agents Sport y Universidad Europea Miguel de Cervantes. (Revisar "Modalidad de Cursado" más abajo).
Lecturers
Javier LavandeiraEntrenador Cantera R.C Deportivo de la Coruña
Pedro E. MillánEntrenador de Fútbol
Lic. David SalavertDirector de Cantera del Levante U.D.
Target Audience
Cualquier persona interesada en adquirir conocimientos relacionados con el mundo del fútbol profesional.
Especialmente indicado para graduados y/o licenciados en Ciencias de la Actividad Física y del Deporte; entrenadores, técnicos y preparadores físicos de fútbol; directores y coordinadores de escuelas de fútbol, canteras y fundaciones, así como para profesionales del sector del fútbol.
Certification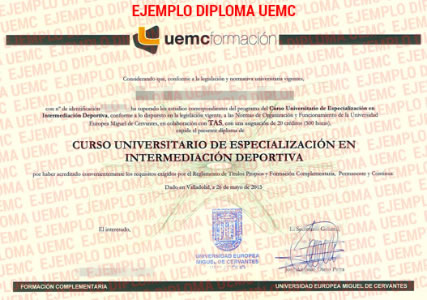 Certificado Final de Aprobación
Universidad Europea Miguel de Cervantes
Paper Certificate
Certificado impreso, firmado y sellado por la Universidad Europea Miguel de Cervantes. Este certificado se envía a domicilio de cada alumno.
completely online

250 lecture hours
Syllabus (250 lecture hours)
If you want to know the complete syllabus, request more information in this form.
Module 1
83 lecture hours
01/15/2016 ↔ 02/15/2016
METODOLOGÍA DE LA CAPTACIÓN, SELECCIÓN Y GESTIÓN DE TALENTOS EN FÚTBOL
Pedro E. Millán, Lic. David Salavert, Javier Lavandeira
Module 2
83 lecture hours
02/15/2016 ↔ 03/15/2016
INFLUENCIA DEL ENTORNO EN EL DESARROLLO DEL TALENTO
Pedro E. Millán
Module 3
84 lecture hours
03/15/2016 ↔ 04/15/2016
MÉTODOS Y PROGRAMAS DE FORMACIÓN DE TALENTOS
Pedro E. Millán