Curso Universitario de Especialización en Preparación Física, Nutrición y Psicología Deportiva

Organizer

Total Agents Sport
Este Curso Universitario de Especialización parte de la base de que, en la práctica deportiva, es imprescindible contar con el apoyo de un buen profesional que oriente y asesore al deportista, a fin de conseguir un entrenamiento efectivo y una forma física adecuada a cada individuo, a fin de evitar lesiones y/o daños que perjudiquen la salud del atleta.

Atención: esta capacitación se cursa (se desarrolla) en el campus virtual de Total Agents Sport y Universidad Europea Miguel de Cervantes. (Revisar "Modalidad de Cursado" más abajo).
Lecturer
Juan Carlos González HernándezPreparador Físico del Real Valladolid
Target Audience
Cualquier persona interesada en adquirir conocimientos relacionados con el mundo del deporte en general.
Deportistas amateur o incluso profesionales que quieren tener mejores y más amplios conocimientos para mejorar su rendimiento deportivo.
Estudiantes que no han conseguido graduarse pero necesitan una diplomatura y unos estudios que les permitan integrarse como profesionales.
Monitores de gimnasia de mantenimiento, artes marciales, aeróbic, y fitness.
Deportistas o instructores de élite que deseen llegar a las más altas cotas de efectividad.
Certification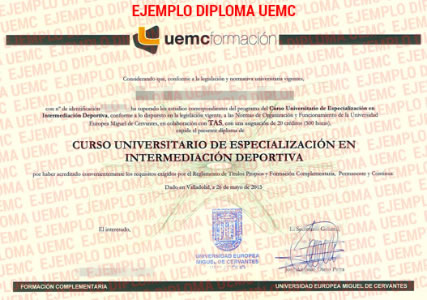 Certificado Final de Aprobación
Universidad Europea Miguel de Cervantes
Paper Certificate
Certificado impreso, firmado y sellado por la Universidad Europea Miguel de Cervantes. Este certificado se envía a domicilio de cada alumno.
completely online

350 lecture hours
Syllabus (350 lecture hours)
If you want to know the complete syllabus, request more information in this form.
Module 1
117 lecture hours
01/15/2016 ↔ 02/15/2016
BASES DE ACTIVIDAD FISICA - BASES GENERALES PARA LA EVALUACIÓN FUNCIONAL DE LA TÉCNICA DEPORTIVA
Juan Carlos González Hernández
Module 2
117 lecture hours
02/15/2016 ↔ 03/15/2016
VELOCIDAD - METODOLOGÍA Y PROGRAMACIÓN DEL ENTRENAMIENTO DE LA VELOCIDAD
Juan Carlos González Hernández
Module 3
116 lecture hours
03/15/2016 ↔ 04/15/2016
FUERZA INT. METODOLOGÍA DEL ENTRENAMIENTO PARA EL DESARROLLO DE LA FUERZAPROGRAMACIÓN DEL ENTRENAMIENTO DE LA RESISTENCIA
Juan Carlos González Hernández