Webinar sobre Deficiencia de Hierro y Anemia Ferropénica en Atletas de Resistencia

Organizer

Fuerza y Nutrición Deportiva
La deficiencia de hierro es un problema muy frecuente que influye en el rendimiento deportivo en atletas de ambos sexos que practican deportes de resistencia. Esta deficiencia puede estar determinada por factores genéticos, protocolos de entrenamiento y/o de la dieta. Debemos tener presente que la deficiencia de hierro e incluso la anemia ferropénica es un estado habitual en los atletas de resistencia sometidos a altas cargas de entrenamiento. La prevención o el tratamiento de estos estados carenciales, a través de la ingesta de nutrientes en la dieta, la mayoría de las veces presenta complicaciones. Por lo que, conocer los parámetros relacionados con ésta deficiencia y cómo controlarlos, nos permitirán trabajar en su prevención y en su tratamiento de cara a mejorar el rendimiento deportivo de nuestros atletas.
En este Webinar se analizarán los factores que condicionan las carencias de hierro en los atletas de resistencia y cómo prevenirlas, o en su caso, cómo llevar a cabo un tratamiento correctivo con el fin de mejorar los biomarcadores e incrementar los niveles de rendimiento deportivo. Este interesante Webinar será impartido por el Dr. Marcos Seijo, Profesor a tiempo parcial e investigador: The Centre for Science and Medicine in Sport and Exercise. University of Greenwich y Entrenador de Atletismo en Tonbridge School (Reino Unido).
Certification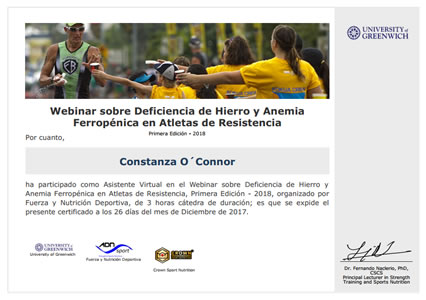 Webinar sobre Deficiencia de Hierro y Anemia Ferropénica en Atletas de Resistencia
University of Greenwich
Digital Certificate
Este certificado especifica que un alumno ha asistido a una capacitación en particular. Se incluyen los siguientes datos: nombres y apellidos del alumno, nombre de la capacitación, cantidad de horas cátedra y nombre de la organización que certifica.
completely online

3 lecture hours
Scientific Supports

University of Greenwich

Fuerza y Nutrición Deportiva

Crown Sport Nutrition
Syllabus (3 lecture hours)
If you want to know the complete syllabus, request more information in this form.
Course
3 lecture hours
01/27/2018 ↔ 01/27/2018
Webinar sobre Deficiencia de Hierro y Anemia Ferropénica en Atletas de Resistencia
Dr. Marcos Seijo, PhD

EXCELENTE WEBINAR QUE APORTA VALIOSOS DATOS CON RESPECTO A LA INGESTA DEL HIERRO Y EL RENDIMIENTO EN DEPORTISTAS DE RESISTENCIA