Webinar Ejercicio Físico y COVID-19: Información en Medios de Comunicación Masivos vs. Evidencia Científica

Organizer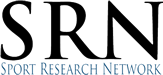 Sport Research Network – SRN
A partir de la gran cantidad de información biomédica que existe actualmente sobre COVID-19, y por otro lado la incertidumbre al tratarse de una condición poco conocida, se crea un escenario incierto sobre cuales son las recomendaciones basadas en evidencia para la realización de ejercicio físico en tiempos de pandemia.
Por otro lado, sabemos que el profesional y los estudiantes de carreras de Ciencias de la Actividad Física y Salud deben mantenerse constantemente actualizados. En esta charla además, en tanto hablamos de ejercicio físico y COVID-19, se verán tips para poder acceder a las mejores bases de datos para la búsqueda de evidencia científica.
Dirigido a:
Este Webinar está dirigido a profesionales o estudiantes de las ciencias del deporte, educación o cultura física, profesionales de la salud y áreas del conocimiento afines.
Lecturer
Klgo. Luis Ortiz MuñozCentro Evidencia UC, Universidad Católica de Chile. Miembro de la colaboración Cochrane. Editor en revista biomédica Medwave.
Certification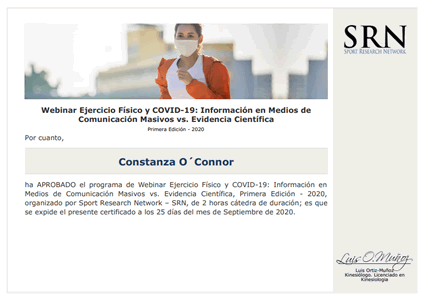 Certificado Final de Asistencia
Sport Research Network – SRN
Digital Certificate
Este certificado especifica que un alumno ha asistido a una capacitación en particular. Se incluyen los siguientes datos: nombres y apellidos del alumno, nombre de la capacitación, cantidad de horas cátedra y nombre de la organización que certifica.
completely online

2 lecture hours
Syllabus (2 lecture hours)
If you want to know the complete syllabus, request more information in this form.
Course
2 lecture hours
09/07/2020 ↔ 09/08/2020
Webinar Ejercicio Físico y COVID-19: Información en Medios de Comunicación Masivos vs. Evidencia Científica
Klgo. Luis Ortiz Muñoz