Medios de Entrenamiento de Fuerza Alternativos para Incrementar la Activación Muscular en Ejercicios de Empuje

Organizer

NSCA Spain
Durante los últimos años se han comenzado a emplear nuevos medios alternativos para el entrenamiento de la fuerza (por ejemplo utilizando dispositivos de suspensión, resistencia elástica o tratando de activar músculos de forma selectiva). A lo largo del presente webinar descubriremos los últimos avances científicos respecto a dichos medios para incrementar la activación muscular en ejercicios de empuje como las tradicionales flexiones o el press de banca.
Lecturer
Joaquin Calatayud Villalba, PhDUniversidad de Valencia
Certification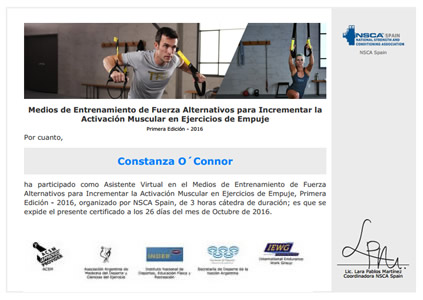 Certificado Final de Asistencia de Entrenamiento de Fuerza Alternativos
NSCA Spain
Digital Certificate
Los alumnos que participen y que estén certificados por NSCA obtendrán 0.4 CEU en su proceso de recertificacion.
completely online

3 lecture hours
Syllabus (3 lecture hours)
If you want to know the complete syllabus, request more information in this form.
Course
3 lecture hours
11/09/2016 ↔ 11/09/2016
Medios de Entrenamiento de Fuerza Alternativos para Incrementar la Activación Muscular en Ejercicios de Empuje
Joaquin Calatayud Villalba, PhD

muy buena

Como temario me parece fenomenal, lo que no veo correcto que hayan tantos errores de datos en una misma presentación. Antes de presentarla se debería de revisar para que a los que asistimos nos queden las cosas claras. Pues de este webinar todavía no tengo algunas cosas claras de lo que dice el locutor y los datos que aparecen en la presentación. Atentamente

Webinar muy interesante, con información útil y aplicable a la práctica

Muy buena