Aplicaciones del Entrenamiento de la Fuerza Mediante Sobrecargas Excéntricas

Organizer

Stefano Benítez
El presente webinar describirá las principales características del entrenamiento con sobrecarga excéntrica. Una vez conocidas tales características, se tratará de analizar los efectos agudos y crónicos de dicho entrenamiento en la prevención de lesiones y rendimiento deportivo
Lecturer
Dr. Oliver Gonzalo Skok, PhDUniversidad San Jorge de Zaragoza, Preparador físico Selección Española Baloncesto U-20
Certification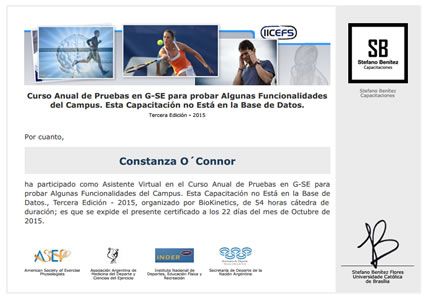 Certificado Final de Asistencia
Stefano Benítez
Digital Certificate
Este certificado especifica que un alumno ha asistido a una capacitación en particular. Se incluyen los siguientes datos: nombres y apellidos del alumno, nombre de la capacitación, cantidad de horas cátedra y nombre de la organización que certifica.
completely online

2 lecture hours
Syllabus (2 lecture hours)
If you want to know the complete syllabus, request more information in this form.
Course
2 lecture hours
04/22/2016 ↔ 04/22/2016
Aplicaciones del Entrenamiento de la Fuerza Mediante Sobrecargas Excéntricas
Dr. Oliver Gonzalo Skok, PhD

ok! información clara y aplicable, seguiré profundizando en este tema. muchas gracias.

Muy muy bien Gran profesional Óliver!

Excelente. muy interesante para la aplicacion practica con-ciencia. Felicitaciones. Espero un 2ª Modulo.