Experto Universitario en Entrenamiento de Deportes Colectivos

Organizer
Universidad Europea Miguel de Cervantes
Este experto universitario suma a destacados especialistas internacionales en el ámbito técnico y científico en entrenamiento de deportes colectivos, desarrollando un sólido y actualizado currículo que permitirá a todos los profesionales del entrenamiento deportivo generar un amplio cuerpo de conocimientos buscando la optimización deportiva.
Lecturers
Lic. Mario Di Santo
Lic. Gustavo Metral
Mg. Sebastián Del Rosso
Dr. Pedro Emilio Alcaraz Ramón, PhDUniversidad Católica San Antonio de Murcia
Mg. Stefano BenítezUniversidad de la República
Dr. David CasamichanaReal Racing Club de Santander
Dr. Julio Calleja-Gonzalez, PhD
Luis Suarez ArronesUniversidad Pablo de Olavide, Sevilla & ASPIRE, Doha
Antonio Jesus Bores CerezalUniversidad Europea del Atlantico
Eduardo Saez de Villarreal SáezUniversidad Pablo de Olavide
Target Audience
Graduados, licenciados, profesores, diplomados y maestros en Educación Física.
Estudiantes de Ciencias de la Actividad Física y el Deporte o de Educación Física.
Técnicos deportivos (Entrenadores deportivos, Instructores, Entrenadores personales, etc.).
Profesionales de la Fisioterapia y Kinesiología o estudiantes de estas profesiones.
Otros profesionales vinculados al área en especial.
Certifications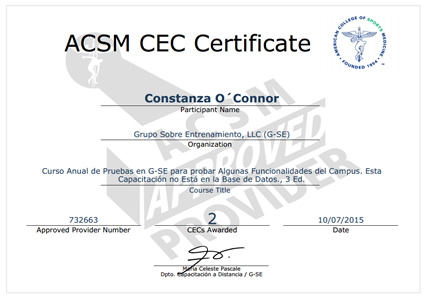 ACSM CEC Certificate
American College of Sports Medicine
Digital Certificate
Certificado provisto por el Colegio Americano de Medicina del Deporte (ACSM) para otorgar Créditos de Educación Continua (CECs) a quienes a quienes sean ACSM Certified Personal Trainers, ACSM Certified Group Exercise Instructors, ACSM Certified Exercise Physiologists o tengan otro certificado otorgado por ACSM.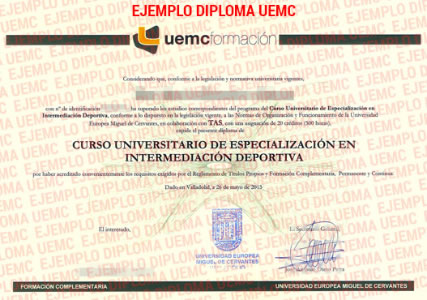 Certificado de Experto Universitario en Entrenamiento de Deportes Colectivos
Universidad Europea Miguel de Cervantes
Paper Certificate
Certificado impreso, firmado y sellado por la Universidad Europea Miguel de Cervantes. Este certificado se envía a domicilio de cada alumno.
Scientific Supports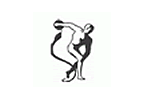 Asociación Argentina de Medicina del Deporte y Ciencias del Ejercicio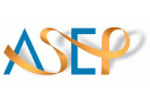 American Society of Exercise Physiologists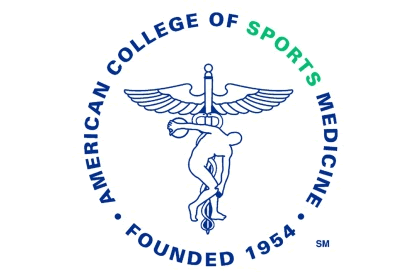 American College of Sports Medicine
Syllabus (750 lecture hours)
If you want to know the complete syllabus, request more information in this form.
Module 1
250 lecture hours
09/15/2016 ↔ 10/15/2016
Planificación y Periodización en Deportes Colectivos
Antonio Jesus Bores Cerezal
Evaluación, programación y control del entrenamiento.
Dr. Pedro Emilio Alcaraz Ramón, PhD
Fisiología de los deportes colectivos.
Lic. Gustavo Metral
Module 2
250 lecture hours
10/15/2016 ↔ 11/15/2016
Entrenamiento de la resistencia.
Dr. David Casamichana
Entrenamiento de la fuerza.
Luis Suarez Arrones, Eduardo Saez de Villarreal Sáez
Desarrollo de las capacidades condicionales en niños y adolescentes.
Mg. Sebastián Del Rosso
Module 3
250 lecture hours
11/15/2016 ↔ 12/15/2016
Entrenamiento de la Velocidad y la Agilidad
Mg. Stefano Benítez
Fatiga. Medios para acelerar su recuperación
Dr. Julio Calleja-Gonzalez, PhD
Entrenamiento de la Flexibilidad
Lic. Mario Di Santo