Fundamentos del Entrenamiento Funcional y Alta Intensidad

Organizer

Physical Training and Sport
En este webinar abordaremos la conceptualización del entrenamiento funcional. Sus diferentes aplicaciones, sus manifestaciones desde las distintas capacidades físicas.
Que el alumno sepa conocer e identificar que es el HIT y el HIFT, sus bases fisiológicas.
Lecturer
Prof. Manuel de Diego MorenoWales University
Certification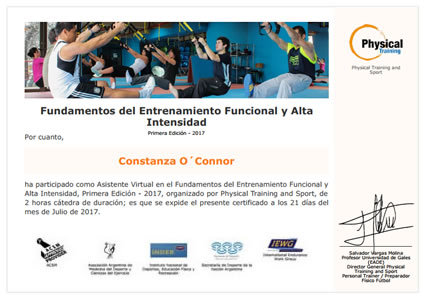 Certificado Final de Asistencia
Physical Training and Sport
Digital Certificate
Este certificado especifica que un alumno ha asistido a una capacitación en particular. Se incluyen los siguientes datos: nombres y apellidos del alumno, nombre de la capacitación, cantidad de horas cátedra y nombre de la organización que certifica.
completely online

2 lecture hours
Syllabus (2 lecture hours)
If you want to know the complete syllabus, request more information in this form.
Course
2 lecture hours
07/31/2017 ↔ 07/31/2017
Fundamentos del Entrenamiento Funcional y Alta Intensidad
Prof. Manuel de Diego Moreno, Prof. Manuel de Diego Moreno

interesante y concreto.

Es buena información. Es el primer webinar que tomo, es bastante básico sin profundizar mucho en nada. Pero no está mal.