Webinar Sobre Fútbol Como Sistema Complejo

Organizer

David Casamichana
En esta ponencia se abordarán las características del fútbol como sistema complejo, profundizando en la auto-organización, la formación de sinergias, la co-adaptación y sus implicaciones para el entrenamiento.
Lecturer
Prof. Pedro Silva, PhDFaculdade de Desporto da Universidade do Porto
Certification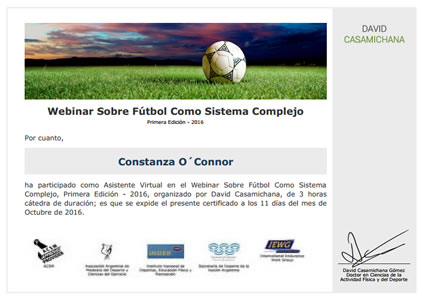 Certificado Final de Asistencia
David Casamichana
Digital Certificate
Este certificado especifica que un alumno ha asistido a una capacitación en particular. Se incluyen los siguientes datos: nombres y apellidos del alumno, nombre de la capacitación, cantidad de horas cátedra y nombre de la organización que certifica.
completely online

3 lecture hours
Syllabus (3 lecture hours)
If you want to know the complete syllabus, request more information in this form.
Course
3 lecture hours
10/20/2016 ↔ 10/20/2016
Webinar Sobre Fútbol Como Sistema Complejo
Prof. Pedro Silva, PhD, Prof. Pedro Silva, PhD

Muy bueno, son embargo la reproducción de la presentación a veces falla.