Innovar Salud y Deporte - Entrenamiento 360 y Rendimiento Deportivo

Organizer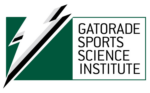 Gatorade Sports Science Institute
GSSI reedita su encuentro anual INNOVAR Salud y Deporte en esta oportunidad bajo el título "Entrenamiento 360 y Rendimiento Deportivo.
En esta jornada virtual compartiremos las siguientes disertaciones:
9:10 hs "Formas y componentes del entrenamiento moderno" - Lic. Gastón Bergner

9:30 hs "La importancia del entrenamiento neuromotor en el rendimiento deportivo"- Prof. Paul Dorochenko

10:00 hs "La presión, su incidencia sobre el rendimiento y el resultado" Lic. Pablo Pécora

10:15 hs "Entrenar a partir de lo que dicen los genes: ¿es posible?"- Dr. Pablo Corinaldesi

10:50 hs "Nuevas tecnologías aplicadas en la reprogramación neuromotora"- Prof. Paul Dorochenko

11:40 hs "Energía y fluidos para el cerebro y los músculos"- Dr. Pablo Corinaldesi

12:00 hs "Reprogramación motora en el entrenamiento inteligente"- Prof. Paul Dorochenko

13:00 FINAL JORNADA

Lecturers
Gaston Bergner
Dr. Pablo Corinaldesi
Paul DorochenkoUniversidad de Poitiers
Lic. Pablo Pécora
Certification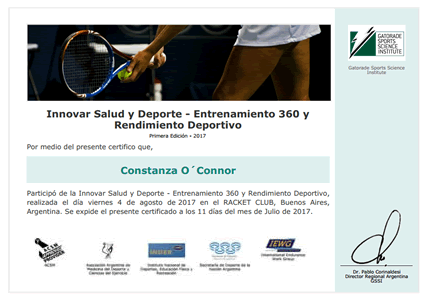 Certificado Final de Asistencia
Gatorade Sports Science Institute
Digital Certificate
Este certificado especifica que un alumno ha asistido a una capacitación en particular. Se incluyen los siguientes datos: nombres y apellidos del alumno, nombre de la capacitación, cantidad de horas cátedra y nombre de la organización que certifica.
completely online

6 lecture hours
Syllabus (6 lecture hours)
If you want to know the complete syllabus, request more information in this form.
Course
6 lecture hours
08/04/2017 ↔ 08/04/2017
Jornada Innovar Salud y Deporte - Entrenamiento 360 y Rendimiento Deportivo
Paul Dorochenko, Lic. Pablo Pécora, Gaston Bergner, Dr. Pablo Corinaldesi