La Periodización del Entrenamiento en la Etapa Juvenil

Organizer
Federico Rossi Capacitaciones
En el presente curso, Luis Moreno compartirá con un enfoque práctico los sistemas tradicionales de entrenamiento y su relación con las periodizaciónes modernas. A partir de allí buscará que comprendas con más claridad que es lo que necesita el nadador entre los 13 y los 17 años para desarrollar todas sus cualidades y construir un trampolín hacia la alta competencia.
Accederás a nuevos conocimientos y todo sobre el Sistema de Entrenamiento Piramidal, basado en experiencias estadísticas reales adaptadas a la realidad de Latinoamérica
Lecturer
Lic. Luis MorenoEntrenador jefe de la selección Olímpica de Venezuela Beijing 2008, Londres 2012, Río 2016, Ponente FINA 2016, 2017, Entrenador del club Hogar Hispano de Valencia
Target Audience
Entrenadores de Natación
Prof. de Ed. Física
Certification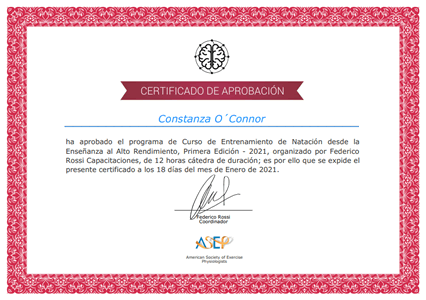 Certificado Final de Aprobación
Federico Rossi Capacitaciones
Digital Certificate
Este certificado especifica que un alumno ha realizado todas las evaluaciones y ha aprobado una capacitación en particular. Se incluyen los siguientes datos: nombres y apellidos del alumno, nombre de la capacitación, cantidad de horas cátedra y nombre de la organización que certifica.
completely online

12 lecture hours
Scientific Supports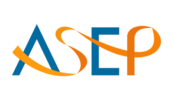 American Society of Exercise Physiologists
Syllabus (12 lecture hours)
If you want to know the complete syllabus, request more information in this form.
Course
12 lecture hours
04/12/2021 ↔ 05/12/2021
Aspectos fundamentales de la planificación tradicional aplicada a la realidad latinoamericana
Lic. Luis Moreno
Comparación de la planificación tradicional con los nuevos sistemas de entrenamiento
Lic. Luis Moreno
Tabla para calcular ritmos de trabajos facilitadoras para coach y nadadores
Lic. Luis Moreno
Planificación Piramidal aplicada a la realidad y a las necesidades latinoamericanas
Lic. Luis Moreno
Series de entrenamiento modelo y su relación con las capacidades condicionantes
Lic. Luis Moreno
Charla debate
Lic. Luis Moreno