La Saturación de Oxigeno Muscular y su Implicación en la Prevención de Lesiones Deportivas

Organizer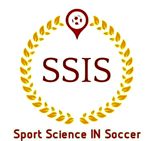 Sport Science IN Soccer
Actualmente, la tecnología de infrarrojo cercano no-invasivo (NIRS) portátil que mide la saturación de oxígeno muscular (SmO2) esta siendo medida para la valoración del metabolismo energético en deportistas, ya que refleja el balance de entre la entrega y utilización de oxígeno y la capacidad oxidativa dentro del musculo, sin embargo se desconoce su aplicación en las lesiones deportivas.
Los profesionales que trabajan como científicos del deporte, fisiólogos, preparadores físicos, fisioterapeutas, readaptadores físicos y especialistas en rendimiento podrán conocer como utilizar esta herramienta con diferentes análisis de interpretación y complementarios a otras pruebas.
por lo tanto, los expertos en ciencias del ejercicio y la salud que deseen ejercer en el ámbito de la prevención de lesiones y rendimiento podrán utilizar este conocimiento de manera efectiva con experiencias practicas e investigativas.
Lecturer
Prof. Aldo Alfonso Vasquez Bonilla, MScUniversidad de Extremadura
Certification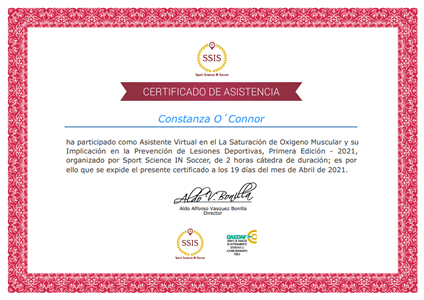 Certificado Final de Asistencia
Sport Science IN Soccer
Digital Certificate
Este certificado especifica que un alumno ha asistido a una capacitación en particular. Se incluyen los siguientes datos: nombres y apellidos del alumno, nombre de la capacitación, cantidad de horas cátedra y nombre de la organización que certifica.
completely online

2 lecture hours
Scientific Supports

Sport Science IN Soccer

Grupo de Avances en Entrenamiento Deportivo & Acondicionamiento Físico. Universidad de Extremadura.
Syllabus (2 lecture hours)
If you want to know the complete syllabus, request more information in this form.
Course
2 lecture hours
05/20/2021 ↔ 05/20/2021
La Saturación de Oxigeno Muscular y su Implicación en la Prevención de Lesiones Deportivas
Prof. Aldo Alfonso Vasquez Bonilla, MSc