Webinar de Marketing y Ventas en el Entrenamiento Personal

Organizer

NSCA Spain
La realidad siempre cambiante del sector Fitness, nos deja en la actualidad múltiples novedades tecnológicas y nuevas y necesarias actualizaciones en el área del conocimiento. Pero más que nunca, en nuestro sector la imagen de empresa o de marca personal cobra una importancia relevante.
NSCA Spain concederá 0.4 CEU a los entrenadores certificados por NSCA que participen en este webinar.
Lecturer
Lic. Isaac Rojas RiveroUniversidad de Las Palmas de Gran Canaria
Certification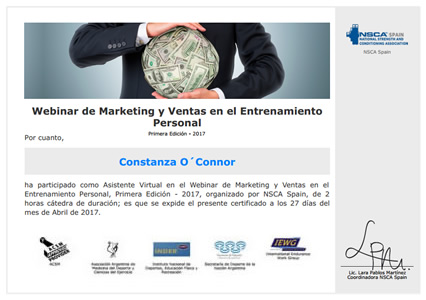 0.4 CEU
NSCA Spain
Digital Certificate
Los alumnos que participen y que estén certificados por NSCA obtendrán 0.4 CEU en su proceso de recertificacion.
completely online

2 lecture hours
Scientific Supports

NSCA Spain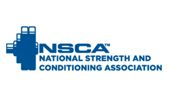 National Strength and Conditioning Association
Syllabus (2 lecture hours)
If you want to know the complete syllabus, request more information in this form.
Course
2 lecture hours
06/26/2017 ↔ 06/26/2017
Webinar de Marketing y Ventas en el Entrenamiento Personal
Lic. Isaac Rojas Rivero

Ha sido muy útil, ya que me ha orientado y me ha abierto la mente para iniciarme en la profesión de entrenador personal. Aunque aún me falta un año para conseguir mi titulación oficial de TAFAD y formarme como entrenador personal, creo que es importante empezar desde ahora a forjarme en cuestiones de marketing y ventas. Muchas gracias a G-SE e Isaac Rojas por la valiosa información. Quiero seguir formándome y ser un lider en este sector con su ayuda. GRACIAS!

MUY UTIL, COMO SIEMPRE EL MATERIAL OFRECIDO POR NSCA

Mi primer webinar y ha estado genial.