1º Congreso Internacional de Preparación Física y Coaching en Tenis

Organizer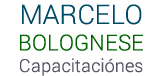 Marcelo Bolognese Capacitaciones
En este Congreso Internacional, tendremos la oportunidad de escuchar a especialistas Nacionales e Internacionales abordando temas relacionados a la preparación de la fuerza, la flexibilidad, la prevención, la resistencia, la recuperación, la nutrición y suplementación, el coaching entre otros, brindando un marco de contenidos muy válidos para aquellos relacionados con el Tenis.
Importante: Los asistentes virtuales verán las conferencias GRABADAS y podrán realizar consultas a través de los foros.


Lecturers
Mg. Marcelo Bolognese
Rodolfo Visconti
Lic. Adrián A Barale
Lic. Mario Di Santo
Marcelo Paschetta
Claudio Gastaldi
Javier Nalbandian
Paul DorochenkoUniversidad de Poitiers
Prof. Claudio GalassoUGR
Claudio Sosa
Lic. Alejandro GrecoKlgo del Equipo Nacional de Tenis Fed Cup
Prof. Javier CapitaineG.S.A. Barcelona
Certification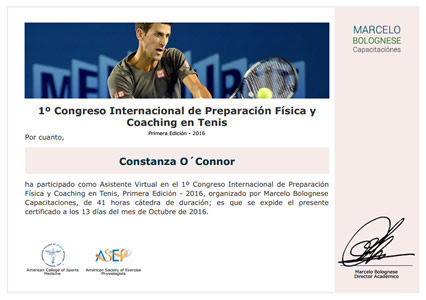 Certificado Final de Asistencia
Marcelo Bolognese Capacitaciones
Digital Certificate
Este certificado especifica que un alumno ha asistido a una capacitación en particular. Se incluyen los siguientes datos: nombres y apellidos del alumno, nombre de la capacitación, cantidad de horas cátedra y nombre de la organización que certifica.
completely online

29 lecture hours
Scientific Supports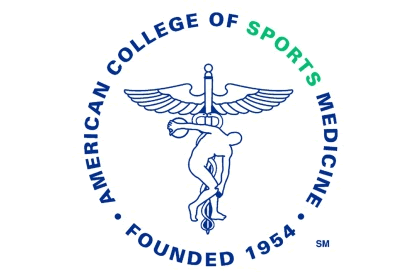 American College of Sports Medicine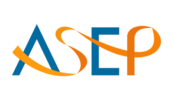 American Society of Exercise Physiologists
Syllabus (29 lecture hours)
If you want to know the complete syllabus, request more information in this form.
Course
29 lecture hours
11/02/2016 ↔ 11/04/2016
Javier Capitaine
Mg. Marcelo Bolognese
Rodolfo Visconti
Rodolfo Visconti
Adrian Barale
Lic. Adrián A Barale
Mario Di Santo
Lic. Mario Di Santo
Paschetta
Marcelo Paschetta
Mario Di Santo
Lic. Mario Di Santo
Marcelo Bolognese
Mg. Marcelo Bolognese
Conferencia Nalbandian
Javier Nalbandian
Aspectos de la Visión en el Tenis
Paul Dorochenko
Conferencia Galasso
Prof. Claudio Galasso
Conferencia Claudio Sosa
Claudio Sosa
Conferencia Grecco
Lic. Alejandro Greco
Coaching Sistémico Integrado
Prof. Javier Capitaine

Esta capacitación en particular no cumplió mis expectativas. La conferencia mas interesante para mi, resultó estar cortada, le faltan unos minutos. Y otra de las conferencias tira un error y no tiene audio.

apenas empiezo!

muy bien

Es la primera vez que realizo una capacitación en G-SE y estoy muy conforme con los métodos que utilizan para su realización. Algunos detalles técnicos de conexción pero muy conforme con la capacitación y el servicio de G-SE.