Prevención y Readaptación de Lesiones Deportivas

Organizer

NSCA Spain
El objetivo del presente webinar será abordar los procesos de prevención y readaptación de las lesiones en la práctica deportiva.
NSCA Spain concederá 0.4 CEU a los profesionales certificados que participen en el webinar
Lecturers
Toni Caparrós Pons
Dr. Javier Peña López, PhDUniversitat de Vic-Universitat Central de Catalunya
Certification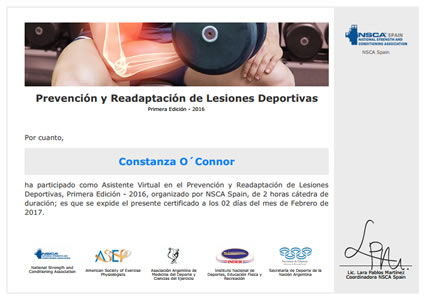 0.4 CEU
NSCA Spain
Digital Certificate
Los alumnos que participen y que estén certificados por NSCA obtendrán 0.4 CEU en su proceso de recertificacion.
completely online

2 lecture hours
Scientific Supports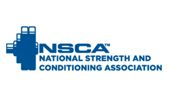 National Strength and Conditioning Association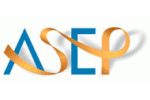 American Society of Exercise Physiologists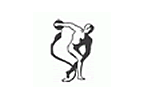 Asociación Argentina de Medicina del Deporte y Ciencias del Ejercicio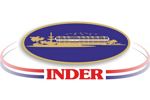 Instituto Nacional de Deportes, Educación Física y Recreación

Secretaría de Deporte, Educación Física y Recreación de la Nación Argentina
Syllabus (2 lecture hours)
If you want to know the complete syllabus, request more information in this form.
Course
2 lecture hours
04/27/2016 ↔ 04/27/2016
Prevención y Readaptación de Lesiones Deportivas
Dr. Javier Peña López, PhD, Toni Caparrós Pons

BUENA

La informacion es muy buena, lastima que los cursos que fueron grabados no tuvieron muy buena calidad de presentacion en algunas imagenes diapositivas pero lo demas es estupendo!

Me ha gustado y me ha resultado muy interesante , solo me falto poder ver los videos .

muy bien.

poco práctico

Tiene muy buena pinta en cuanto a presentación, calidad de contenidos, etc, pero se corta el audio con mucha frecuencia lo cual no me permite seguirlo con fluidez. Me gustaría poder resolver o bien si no se puede cambiarlo por otro, un saludo y muchas gracias.

Me gusta mucho esta plataforma, muy completa e intuitiva

Excelente muy bien gracias por compartir y hacer mas accesible el conocimiento.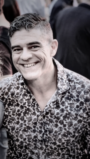 Me ha aportado conocimientos que he puesto en práctica.

todas excelente continúen asi!!! y feliz de poder seguir aprendiendo gracias a ustedes y manejando mis horarios de estudio gracias

Muy buena ponencia. Muy recomendable