Primer Simposio Internacional de Hipertrofia. Simposio 1: La Hipertrofia en la Salud, el Rendimiento y la Estética Corporal

Organizer

Physical Training and Sport
Pretendemos con este doble Simposio reunir bajo una misma temática, distintas conferencias de interés y actualidad que no llevan un orden establecido, pero que de alguna manera se correlacionan en la búsqueda de un objetivo común, hipertrofia. Para ello hemos recurrido tanto a la ciencia como al empirismo con docentes especializados en sus temáticas y con una experiencia contrastada en sus campos de trabajo, dejando claro que no existe un sólo camino para conseguir aumento de sección transversal. Dejando claro igualmente que la hipertrofia puede ser enfocada desde la estética, culturismo, salud o rendimiento acorde con los objetivos prioritarios de cada sujeto, así mismo contaremos con ponencias no sólo relacionadas con el entrenamiento, sino también con la nutrición y suplementación íntimamente ligadas a nuestra temática.
Atención: Si adquiere los dos simposios juntos, cuenta con un descuento, ambos por un valor total de € 135.-

Lecturers
Mg. Marcelo Bolognese
Prof. Salvador Vargas MolinaEADE-University of Wales Trinity Saint David
Prof. José María García García
Prof. Diego A. Bonilla OcampoResearch Division, DBSS INTERNATIONAL
VICTOR BARRIOS BERNABEEspaña
Certification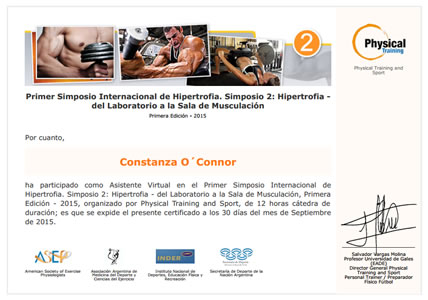 Certificado Final de Asistencia
Physical Training and Sport
Digital Certificate
Descripción
completely online

10 lecture hours
Scientific Supports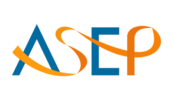 American Society of Exercise Physiologists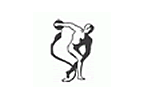 Asociación Argentina de Medicina del Deporte y Ciencias del Ejercicio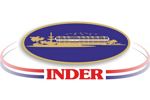 Instituto Nacional de Deportes, Educación Física y Recreación

Secretaría de Deporte, Educación Física y Recreación de la Nación Argentina
Syllabus (10 lecture hours)
If you want to know the complete syllabus, request more information in this form.
Course
10 lecture hours
10/26/2015 ↔ 10/31/2015
Sarcopenia, la Importancia del Entrenamiento de la Hipertrofia en esta Problemática Actual
Mg. Marcelo Bolognese
Técnicas Avanzadas para Entrenamiento de Hipertrofia
Prof. Salvador Vargas Molina
Periodización en Hipertrofia
Prof. José María García García
Suplementación Deportiva para Hipertrofia
Prof. Diego A. Bonilla Ocampo
Nutrientes Esenciales. Funciones y Reparto
VICTOR BARRIOS BERNABE
Gracias por la información. Abrazos.

ecxelente !!!
MUY BUENAS CAPACITACIONES, COMPLETAS Y JUSTIFICADAS
Ha sido aprovechable. Me he quedado esperando por el simposio 2 sobre este tema. Y no me ha llegado información. Mi mail es varitoef@hotmail.com