Primera Clase Curso Entrenador de Natación

Organizer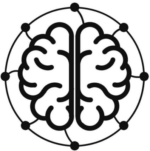 Federico Rossi Capacitaciones
Para conducir grupos humanos se necesita de una gran determinación, claridad de conceptos y sobre todo confianza en nuestras capacidades, de lo contrario no transmitiremos certezas sino temores, y en nuestro rol de liderazgo, debemos mostrarnos ante nuestros atletas como una solución concreta ante las dudas de ellos y no las nuestras.

Te lo garantizo, después de esta clase, el mundo te va a quedar chico.
Te esperamos.
Lecturer
Federico RossiEntrenador del Seleccionado Argentino de Natación. 7 Campeonatos Mundiales. 5 Juegos Panamericanos. Disertante en múltiples congresos internacionales.
Certification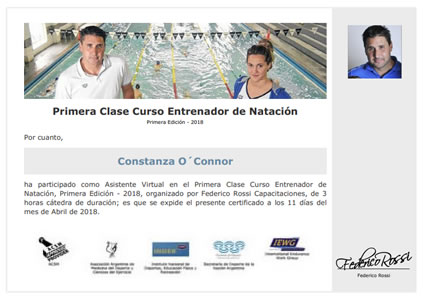 Certificado Final de Asistencia
Federico Rossi Capacitaciones
Digital Certificate
Este certificado especifica que un alumno ha asistido a una capacitación en particular. Se incluyen los siguientes datos: nombres y apellidos del alumno, nombre de la capacitación, cantidad de horas cátedra y nombre de la organización que certifica.
completely online

3 lecture hours
Syllabus (3 lecture hours)
If you want to know the complete syllabus, request more information in this form.
Course
3 lecture hours
04/06/2018 ↔ 04/06/2018
Primera Clase Curso Entrenador de Natación
Federico Rossi, Federico Rossi

excelente

Bien, excelente. Un pequeño percance con un corte eléctrico, nada que no se pudiera solucionar al rato y seguir con el normal desarrollo del curso.