Ejercicio Físico e Hipertensión Arterial

Organizer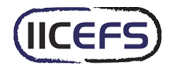 Instituto Internacional de Ciencias del Ejercicio Físico y Salud
La hipertensión arterial (HTA) es la afección circulatoria más común, que representa más del 40% de la carga de enfermedad cardiovascular en los países desarrollados.
Aproximadamente, 1/3 de los adultos mayores de 18 años tienen HTA, y en 2/3 de las personas afectadas, no está controlada. Los datos de atención primaria de salud muestran que la HTA representa aproximadamente el 6% de las consultas de medicina general.
Las modificaciones en el estilo de vida han de instaurarse como primera medida en el paciente hipertenso (acompañadas o no de intervenciones farmacológicas), de modo que, promover la actividad física y realizar ejercicio es considerado un pilar clave en el tratamiento y control de la HTA y comorbilidades asociadas.

Lecturer
Prof. Lucía Guerrero RomeroInstituto Internacional Ciencias Ejercicio Físico y Salud
Certification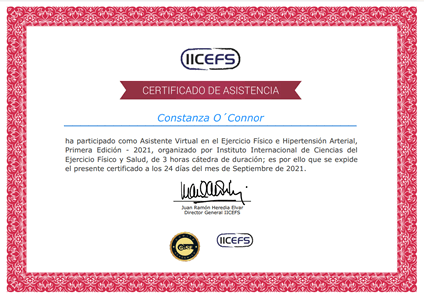 Certificado Final de Asistencia
Instituto Internacional de Ciencias del Ejercicio Físico y Salud
Digital Certificate
Este certificado especifica que un alumno ha asistido a una capacitación en particular. Se incluyen los siguientes datos: nombres y apellidos del alumno, nombre de la capacitación, cantidad de horas cátedra y nombre de la organización que certifica.
completely online

3 lecture hours
Scientific Supports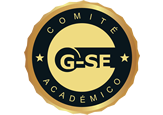 Comité Académico G-SE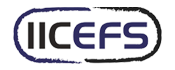 Instituto Internacional de Ciencias del Ejercicio Físico y Salud
Syllabus (3 lecture hours)
If you want to know the complete syllabus, request more information in this form.
Course
3 lecture hours
11/14/2021 ↔ 11/14/2021
Ejercicio Físico e Hipertensión Arterial
Prof. Lucía Guerrero Romero