Seminario sobre Nutrición Aplicada a Deportes de Fuerza e Hipertrofia

Organizer

Francis Holway
El presente seminario en vivo abordará la nutrición aplicada a la Halterofilia y al Levantamiento de Potencia; como así también las estrategias nutricionales para el fisico-culturismo.
El mismo es dictado por Francis Holway; uno de los referentes más importantes de Habla Hispana en Nutrición Deportiva, quien desde hace más de 17 años trabaja con deportistas de alto rendimiento, y se ha desempeñado como asesor del Comité Olímpico Internacional y del Comité Olímpico de Estados Unidos, entre otros
Certification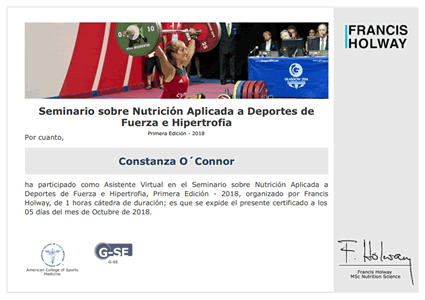 Certificado Final de Asistencia
Francis Holway
Digital Certificate
Este certificado especifica que un alumno ha asistido a una capacitación en particular. Se incluyen los siguientes datos: nombres y apellidos del alumno, nombre de la capacitación, cantidad de horas cátedra y nombre de la organización que certifica.
completely online

1 lecture hours
Scientific Supports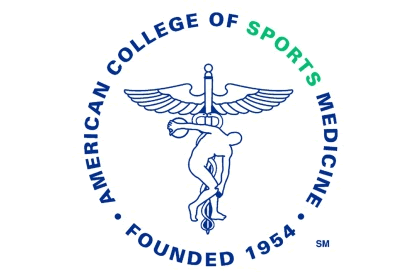 American College of Sports Medicine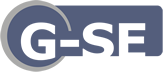 G-SE
Syllabus (1 lecture hours)
If you want to know the complete syllabus, request more information in this form.
Course
1 lecture hours
10/03/2018 ↔ 10/03/2018
Seminario sobre Nutrición Aplicada a Deportes de Fuerza e Hipertrofia
Francis Holway, MSc, Francis Holway, MSc

Es uno de los mejores profesores me gusta cómo explicar la clase y muy claro con lo que habla

¡Excelente seminario, como siempre!

Me ha encantado este Seminario para seguir avanzando en mi camino,grandísimo profesional Francis y magnifica su explicación de cada uno de los detalles expuestos en el Seminario, 1 Saludo!!

Como siempre Francis haciendo un excelente trabajo

Me encanto, muy interesante