SPEED AND AGILITY WEBINAR

Organizer

Lila Movementechnology
Performance Solutions Through Wearable Resistance Technology
Explore the development and benefits of modern Wearable Resistance technology, the science behind its direct transference to sport performance and the coaching and periodisation for speed, agility and acceleration on the track and the sporting field with this exciting innovation.
Key Speakers:
Dr. John Cronin is a Professor of Strength and Conditioning at Auckland University of Technology's (AUT) Sports Performance Research Institute New Zealand. John's personal research interests are in human movement research, particularly around the strengthening of muscle and themes spanning developmental to high performance sport.
Coach Joseph Dolcetti is a high performance coach, conditioning specialist and industry innovator with a career that has spanned over 30 years. This includes training athletes from the NBA, NHL, MLB, MLS, CFL, multiple sports with Team Canada, as well as having trained, worked and collaborated with professional and national athletes, coaches and sport scientists around the world.
Chris Korfist is a speed/performance coach from Chicago, Illinois. In addition to being a high school sprint coach, Chris also operates his facility, Slow Guy Speed School which caters to a variety of athletes, ranging from elementary school athletes to professional/Olympic athletes. He also co-owns TrackFootballConsortium.com which is a bi-annual conference bringing together outside the box thinkers who focus on building a better athlete effectively. He also is co-owner of Reflexive Performance Reset which is a system of breathing and neurological drills that empower your clients and athletes to create instant improvements in their performance.
Lecturers
John Cronin, PhDHead of Research, Auckland University of Technology
Joseph Dolcetti, MScCEO & Founder LILA, High Performance Coach
Chris KorfistWorld Renowned Speed Coach
Certification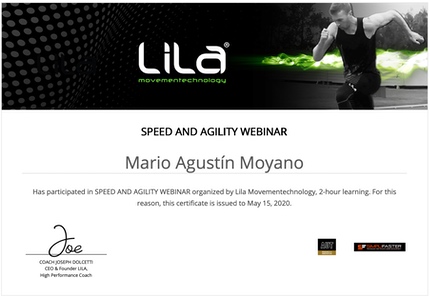 Attendance certificate
Lila Movementechnology
Digital Certificate
This certificate specifies that a student has attended a particular training. The following information is included: student's first and last names, name of the training, number of teaching hours and name of the certifying organization.
completely online

2 lecture hours
Scientific Supports

Auckland University of Technology

Simpli Faster
Syllabus (2 lecture hours)
If you want to know the complete syllabus, request more information in this form.
Course
2 lecture hours
05/15/2020 ↔ 05/15/2020
SPEED AND AGILITY WEBINAR
John Cronin, PhD, Joseph Dolcetti, MSc, Chris Korfist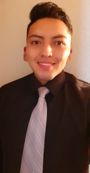 Excelentes Profesionales

Muy positivo

Es que me la ofrecieron, llenaron de publicidad y nunca pude ingresar. Una pérdida de tiempo y abuso de la paciencia de la comunidad de lectores y profesores de G-SE. Estoy suscripto desde que apareció la página. Colaboré y participé como ponente en simposios realizados con trabajos inéditos. Honestamente, entiendo la necesidad de pagar el trabajo de docentes tan destacados en la oferta de capacitaciones, pero no advierto que los aliente la universalización del conocimiento, más bien una acentuación del aspecto lucrativo. No olvidemos que las exposiciones se basan en publicaciones de otros profesionales. Es decir ninguno que ejercemos como profesores podemos mofarnos de ser enteramente genuinos, sino que requerimos de la ayuda de pares y de expertos que nos marcan el camino. Por eso espero, más esfuerzo de los sponsors para proporcionar educación accesible y abierta a todo aquel profesional dispuesto a formarse. A las órdenes.

Llevo tomando sus capacitaciones hace bastantes años y en general todas las han sido muy buenas, altamente recomendables para aprender acerca de lo ultimo de diferentes areas del deporte y también para actualizarse Saludos

Excelente y muy recomandable!

Información bastante interesante

Excelente exposición!

I found the Speed and Agility Webinar to be very informative.

Webinar is very informative. I learned unique regarding resistance technology and it's application in strength and conditioning training. It will help me in my work.

Very informative. Showed the history, science, and application for speed and athletic development.