Taller de Utilización de la Frecuencia Cardíaca en el Deporte y el Ejercicio

Organizer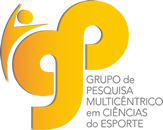 Grupo de Pesquisa Multicêntrico em Ciências do Esporte
En este taller, a lo largo de varias presentaciones virtuales y sus respectivas sesiones de consulta, abordaremos tanto el uso clásico de los monitores de FC como algunas técnicas más recientes como la variabilidad de la frecuencia cardíaca.
Lecturers
Daniel Boullosa, PhDFederal University of Mato Grosso do Sul
Mg. Sebastián Del RossoCentro de Investigaciones en Nutrición Humana, Escuela de Nutrición, Facultad de Ciencias Médicas, Universidad Nacional de Córdoba
Certifications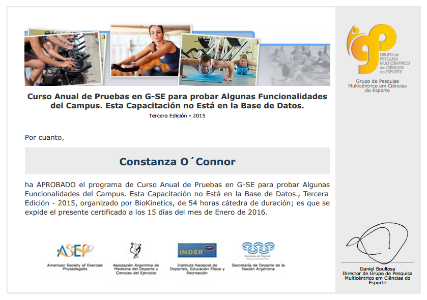 Certificado Final de Asistencia
Grupo de Pesquisa Multicêntrico em Ciências do Esporte
Digital Certificate
Este certificado especifica que un alumno ha asistido a una capacitación en particular. Se incluyen los siguientes datos: nombres y apellidos del alumno, nombre de la capacitación, cantidad de horas cátedra y nombre de la organización que certifica.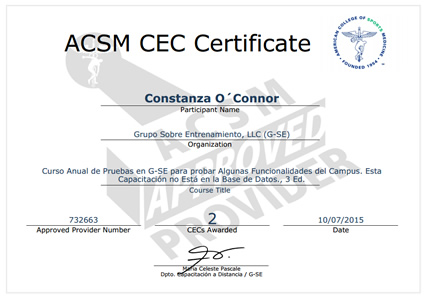 ACSM CEC Certificate
American College of Sports Medicine
Digital Certificate
Certificado provisto por el Colegio Americano de Medicina del Deporte (ACSM) para otorgar Créditos de Educación Continua (CECs) a quienes a quienes sean ACSM Certified Personal Trainers, ACSM Certified Group Exercise Instructors, ACSM Certified Exercise Physiologists o tengan otro certificado otorgado por ACSM.
completely online

15 lecture hours
Syllabus (15 lecture hours)
If you want to know the complete syllabus, request more information in this form.
Course
15 lecture hours
02/15/2016 ↔ 02/20/2016
Taller de Utilización de la Frecuencia Cardíaca en el Deporte y el Ejercicio
Daniel Boullosa, PhD, Mg. Sebastián Del Rosso

Excelente, con buena temantica actualizada y los ponente muy preparados
Para mí es una gran aportación de cara a la evolución en el trabajo con deportistas y con la gente en general también. Es una suerte poder acceder a este grupo de profesionales. Gracias

Muy completo