Técnico de Voleibol de Nível Inicial - en portugués -

Organizer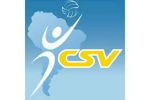 Confederación Sudamericana de Voleibol
A Confederação Sulamericana de Voleibol apresenta seu primeiro curso a distancia em Voleibol, esperando que essa nova ferramenta ofereça as mesma oportunidades de acesso a capacitação para os treinadores de todos os países membros.
Seguindo as diretrizes da Federação Internacional de Voleibol, preparamos este primeiro curso de formação a distancia, "Curso de Treinadores de Voleibol Nível I", com a finalidade de proporcionar ferramentas que permitam ajudar no crescimento do nosso esporte, sendo este, o primeiro de quatro níveis programados.
Através deste curso buscaremos a ordenação e sequencia dos conteúdos propostos, aumentando assim a incorporação das competências buscadas, em grau de igualdade para todos os países da região.
Por isso, os objetivos do programa são:
1.Conseguir uma correta difusão das qualidades do voleibol, como instrumento para a formação integral da pessoa. Começando com sua primeira abordagem.
2.Estabelecer um quadro de atividades planejadas corretamente que permitam um processo de ensino-aprendizagem fluido.
3.Conseguir um espaço de formação, de acordo com as novas necessidades educacionais, modalidades e possibilidades de toda a América do Sul.
4.Estabelecer as bases que permitam um interesse permanente, necessidade de informação e aprimoramento do mini vôlei e do treinamento formal do voleibol.
O aluno aprovado terá acesso a um Certificado de Técnico de Voleibol de Nível Inicial, válido para toda a América do Sul.
Lecturers
Prof. Antonio Rizola, MDConfederação Sulamericana de Voleibol
Ricardo PicininConfederação Sulamericana de Voleibol
Prof. Ricardo Furtado de Mendonça PicininUniversidade Federal de Minas Gerais
Certification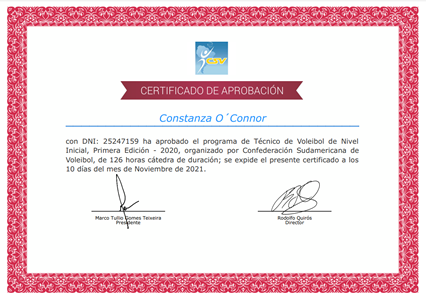 Certificado Final de Aprobación
Confederación Sudamericana de Voleibol
Digital Certificate
Este certificado especifica que un alumno ha realizado todas las evaluaciones y ha aprobado una capacitación en particular. Se incluyen los siguientes datos: nombres y apellidos del alumno, nombre de la capacitación, cantidad de horas cátedra y nombre de la organización que certifica.
completely online

126 lecture hours
Scientific Supports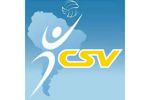 Confederación Sudamericana de Voleibol
Syllabus (126 lecture hours)
If you want to know the complete syllabus, request more information in this form.
Module 1
72 lecture hours
10/05/2020 ↔ 11/05/2020
Unidade Um: Características do Esporte
Prof. Antonio Rizola, MD
Unidade Dois: Aprendizagem Motor
Ricardo Picinin
Unidade Três – Análises dos Fundamentos
Prof. Antonio Rizola, MD
Module 2
54 lecture hours
11/05/2020 ↔ 12/05/2020
Unidade Quatro - Sistemas Básicos de Jogo
Prof. Ricardo Furtado de Mendonça Picinin
Unidade Cinco – Teoria de Treinamento e Planejamento
Prof. Ricardo Furtado de Mendonça Picinin
Unidade Seis – Considerações Didáticas
Prof. Antonio Rizola, MD

Estou muito contente com o curso, adquiri muito conhecimento com bastante troca de experiência e com conteúdo de altíssima qualidade. Eu já tinha muita admiração pelos professores e a minha admiração só aumentou depois desse curso. Muítissimo obrigada e parabéns a todos os envolvidos.

Foi muito bom e gratificante o curso nivel 1 tecnico voleibol sulamericano, ancioso ja pelo nivel 2.

Unfortunately, I could not keep up to date with the obligatory virtual presence during most of the course. However, I could watch most of the classes online and could get most of the great classes given by Picinin And Rizzola. It was a pleasure to watch them share their expertise with everyone. Thank you.

Excelente, didática eficiente e prática. Ambos os professores sempre muito solícitos e prestativos. Foi um curso de alta qualidade, não vejo a hora de fazer o Nível II.

otima
Estou satisfeito com o conteúdo do curso, com a qualidade dos professores, do mais alto nível. Também com a organização do mesmo, incluindo a plataforma bem intuitiva, e descomplicada, minha avaliação é a melhor até o momento!