Verdades sobre el HIIT

Organizer

NSCA Spain
Este webinar intenta transmitir conocimientos reales y aplicables acerca del HIIT para que los entrenadores puedan incrementar sus herramientas en sus entrenamientos deportivos. Mediante una revisión exhaustiva de la literatura científica existente, se propondrán aplicaciones de las conclusiones de los mismos para la práctica real deportiva, constituyendo un puente entre la teoría y la práctica.
NSCA Spain concederá 0.4 CEU a los profesionales certificados por NSCA que participen en este webinar para su proceso de recertificación.
Certification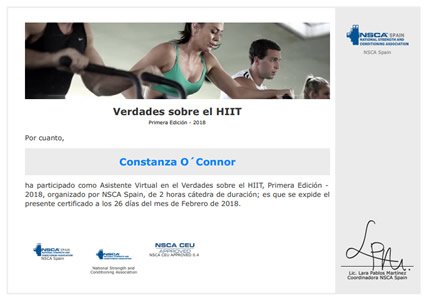 0.4 CEU
NSCA Spain
Digital Certificate
Los alumnos que participen y que estén certificados por NSCA obtendrán 0.4 CEU en su proceso de recertificacion.
completely online

2 lecture hours
Scientific Supports

NSCA Spain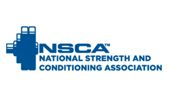 National Strength and Conditioning Association

NSCA CEU APPROVED 0.4
Syllabus (2 lecture hours)
If you want to know the complete syllabus, request more information in this form.
Course
2 lecture hours
04/18/2018 ↔ 04/18/2018
Verdades sobre el HIIT
FERNANDO MARTIN RIVERA

muy positiva

Clara y concisa

La charla era muy interesante, pero se expuso todo de forma muy rápida y sin aclarar muchos temas, como muy por encima. La sensación fué que el ponente quería terminar rápido, no le noté muy a gusto ¿tal vez porque sólo fuimos 2 personas en directo?