Webinar de Entrenamiento Funcional Aplicado al Triatlón

Organizer

Physical Training and Sport
Queremos sentar las bases del empleo del entrenamiento funcional y su correcta aplicación en un deporte compuesto por tres disciplinas como es el Triatlón. Daremos herramientas claras para dar al alumno la posibilidad de desarrollar sesiones funcionales específicas para sus deportistas.
Lecturer
Prof. Joaquín Morente MorenteUniversidad Málaga
Certification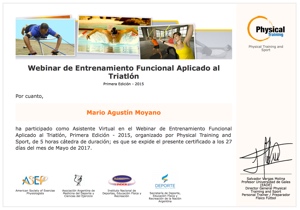 Certificado Final de Asistencia
Physical Training and Sport
Digital Certificate
Descripción
completely online

5 lecture hours
Scientific Supports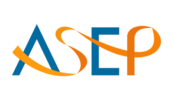 American Society of Exercise Physiologists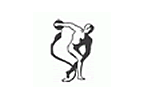 Asociación Argentina de Medicina del Deporte y Ciencias del Ejercicio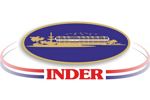 Instituto Nacional de Deportes, Educación Física y Recreación

Secretaría de Deporte, Educación Física y Recreación de la Nación Argentina
Syllabus (5 lecture hours)
If you want to know the complete syllabus, request more information in this form.
Course
5 lecture hours
11/22/2015 ↔ 11/22/2015
Webinar de Entrenamiento Funcional Aplicado al Triatlón
Prof. Joaquín Morente Morente

Webminar decepcionante, en la que el ponente nos cuenta la experiencia de lo que él hace, sin aportar ningún concepto nuevo. Ponencia aburrida .... con Powerpoint de instituto (muy mal hecho y poco visual), y perdiéndose por los cerros de Úbeda en cada una de las diapositivas. Ejercicios anticuados, sin videos .... En fin. Permítanme decirle que el ponente no está a la altura que se espera de una persona que imparte webminar. Un saludo