Webinar de Nuevas Tendencias Deportivas en la Suplementación con Creatina, Glutamina y Omega 3

Organizer

DBSS INTERNATIONAL
A lo largo de este seminario virtual se expondrán los avances más recientes en el campo de la suplementación deportiva, enfocándonos principalmente en la L-Glutamina, los ácidos Omega 3 y la Creatina. Se dispondrá de información validada científicamente que permitirá diseñar protocolos de suplementación, evaluar interacciones no deseadas y prevenir cualquier tipo de efecto adverso con el propósito de potenciar atletas de diferentes disciplinas deportivas. Este Webinar brindará una valiosa oportunidad de aprender los más recientes avances en Bioquímica y Fisiología del Ejercicio en lo que respecta a estos tres poderosos metabolitos.
Lecturer
Prof. Diego A. Bonilla OcampoDynamical Business & Science Society - DBSS International
Certification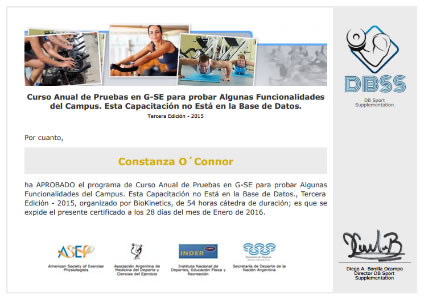 Certificado Final de Asistencia
DBSS INTERNATIONAL
Digital Certificate
Este certificado especifica que un alumno ha asistido a una capacitación en particular. Se incluyen los siguientes datos: nombres y apellidos del alumno, nombre de la capacitación, cantidad de horas cátedra y nombre de la organización que certifica.
completely online

5 lecture hours
Scientific Supports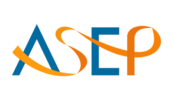 American Society of Exercise Physiologists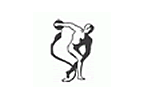 Asociación Argentina de Medicina del Deporte y Ciencias del Ejercicio

Secretaría de Deporte, Educación Física y Recreación de la Nación Argentina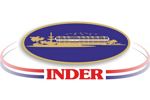 Instituto Nacional de Deportes, Educación Física y Recreación
Syllabus (5 lecture hours)
If you want to know the complete syllabus, request more information in this form.
Course
5 lecture hours
10/26/2014 ↔ 10/26/2014
Webinar de Nuevas Tendencias Deportivas en la Suplementación con Creatina, Glutamina y Omega 3
Prof. Diego A. Bonilla Ocampo