INTRODUCTION
Climbing is an intermittent sport that has earned significant popularity in the last decades. Its inclusion in the 2020 Tokyo Olympic Games has had a significant impact in the specialization and training methods of the professional athletes that participate in this sporting activity (Lutter, El-Sheikh, Schöffl, & Schöffl, 2017).
The differences between the sports of bouldering and sport climbing are mainly related to the duration of efforts, which can vary between the 30 seconds normally taken to climb a boulder problem (White & Olsen, 2010) and efforts of up to half an hour in sport climbing or other disciplines (Egocheaga et al., 2001).
A previous narrative review (Phillip B Watts, 2004) performed in 2004 established that elite rock climbers presented low stature and body weight, low percentages of body fat, moderate aerobic endurance and high levels of upper body strength, endurance and power to weight ratio. In addition to these findings, absolute finger strength measured with dynamometry in elite climbers was not necessarily higher than in the general population, although weight adjusted measures did show significant differences (Giles, Rhodes, & Taunton, 2006). This characteristic showed the importance of weight in this gravity-dependent sport.
During the last years several improvements have been made in the field of training for climbing. The appearance of climbing treadmills, better climbing gyms and apps for training monitoring has professionalized elite training. This, together with the increasing proximity of the Olympic Games has produced an increase of interest in the key performance factors of these sport modalities and has been linked to an increased scientific production in the last years. No previous systematic review on this topic has been performed and this study attempts to compile the most important data around performance in climbing in order to offer coaches and athletes a summary of the most important findings around their sport discipline.
METHODS
Search strategy
The project followed the systematic review methodology proposed in the ''Preferred Reporting Items for Systematic reviews and Meta-Analyses'' (PRISMA) statement (Moher, Liberati, Tetzlaff, Altman, & PRISMA Group, 2009). The identification of studies was performed by searching within PubMed, Sportdiscus, Scopus and Medline. The search was conducted up to and including December 22nd 2018. Two different searches were performed in each database to ensure that all published studies regarding the topic were included in the present systematic review. The first search was performed using the thesaurus provided by each database: Sport Climbing AND Athletic Performance, while the second search was performed with the following combination of terms: Bouldering AND Athletic Performance. Two reviewers independently examined each database to obtain the potential publications. Full texts of the relevant articles were obtained and assessed against the inclusion and exclusion criteria described below. Inter-reviewer disagreements were resolved by consensus.
Inclusion criteria
The following inclusion criteria were used: types of studies: cross-sectional, longitudinal, randomized and nonrandomized controlled trials studying the climbing performance factors; types of participants: male and female adults and adolescents; types of outcome measured: main climbing-related performance factors.
Exclusion criteria
The following exclusion criteria were used: studies in languages other than English or Spanish; unpublished data; studies with animals and dissertations or abstracts from society proceedings or congresses and other similar unpublished data.
Quality assessment
Studies were assessed with the tool Critical appraisal Skills Programme (CASP) in order to control risk of bias of each one of the studies. All of the included studies were accepted by Research Ethical Committees and complied with the ethical rules set in Declaration of Helsinki.
Data extraction
All the articles were assessed first according to the title, second according to the abstract and lastly a full review of the article was performed. Figure 1 represents the PRISMA flow chart of the process of study selection. Article selection was performed using a continuous string quadrant in Microsoft Excel 2007.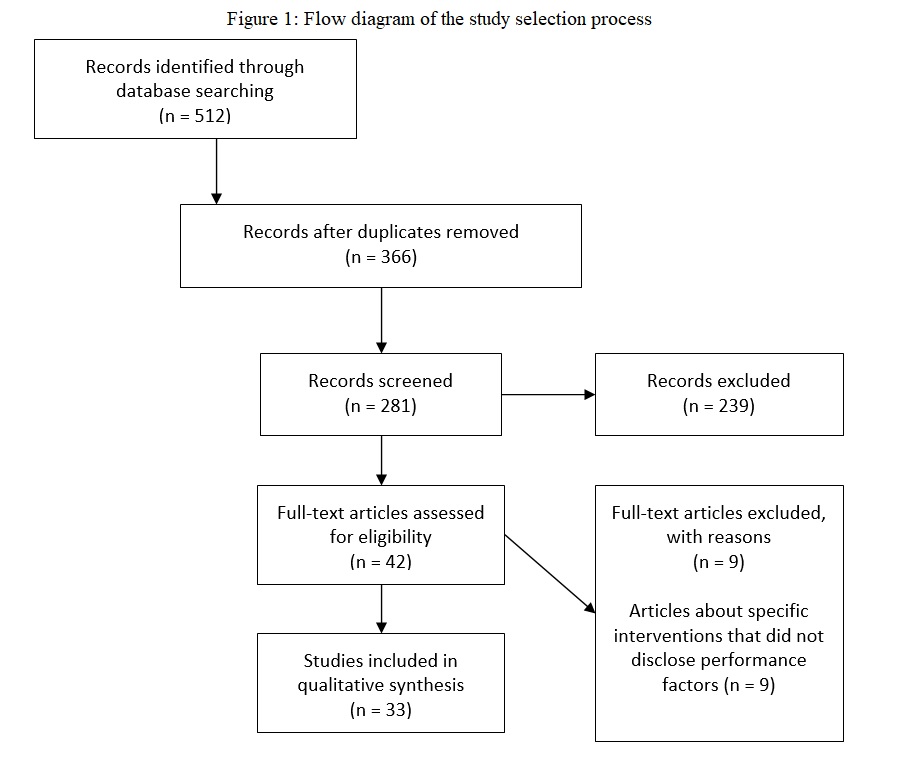 RESULTS
A review of the studies included in the qualitative analysis is provided. Subcategories were established in order to differentiate between types of performance factors. Basic information about the studies included in the review can be found in Table 1.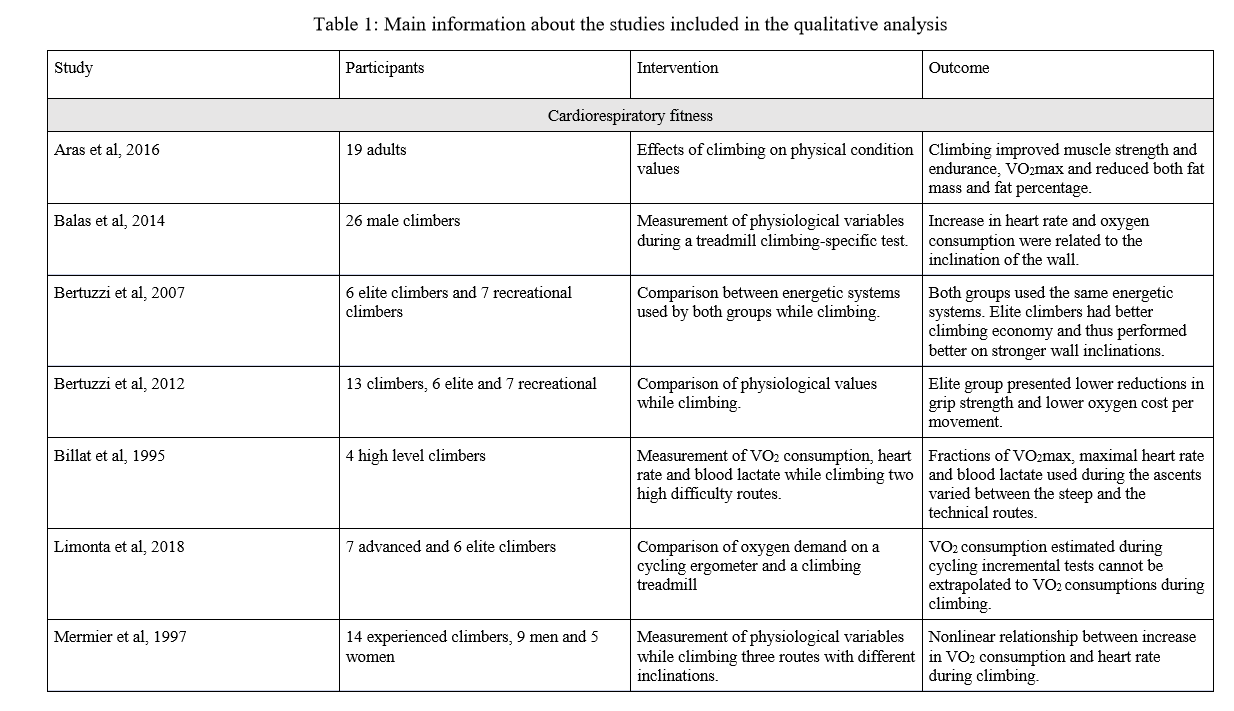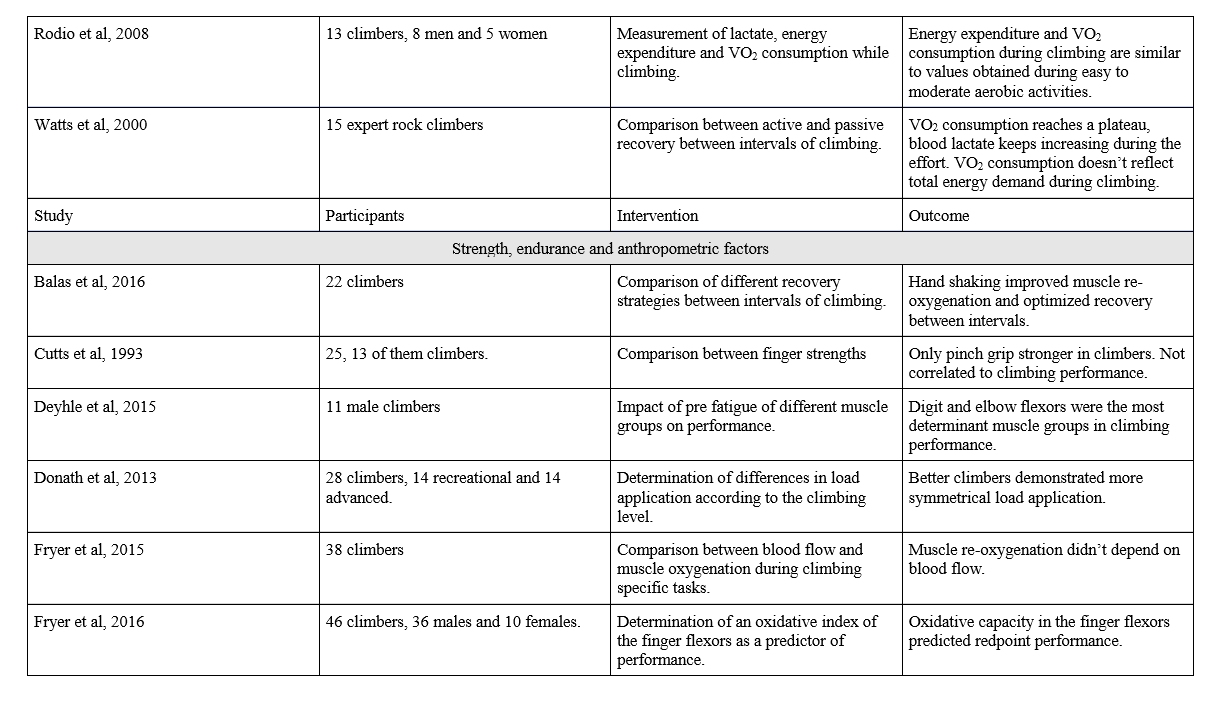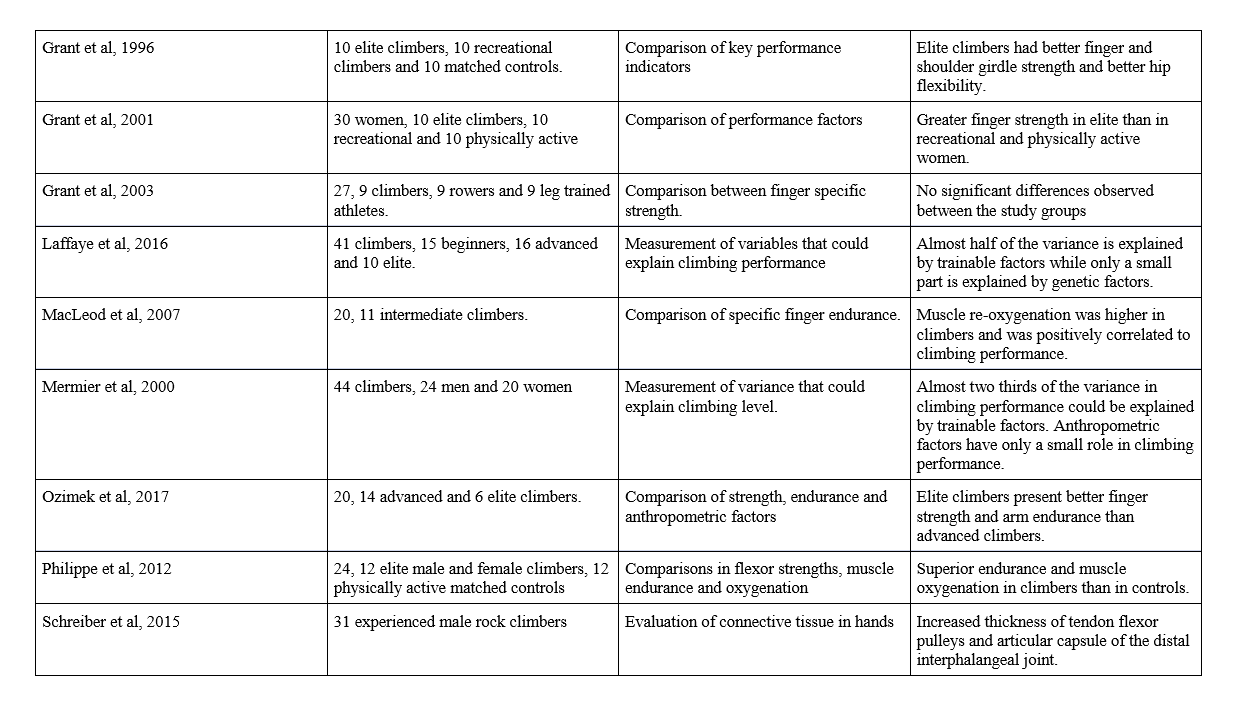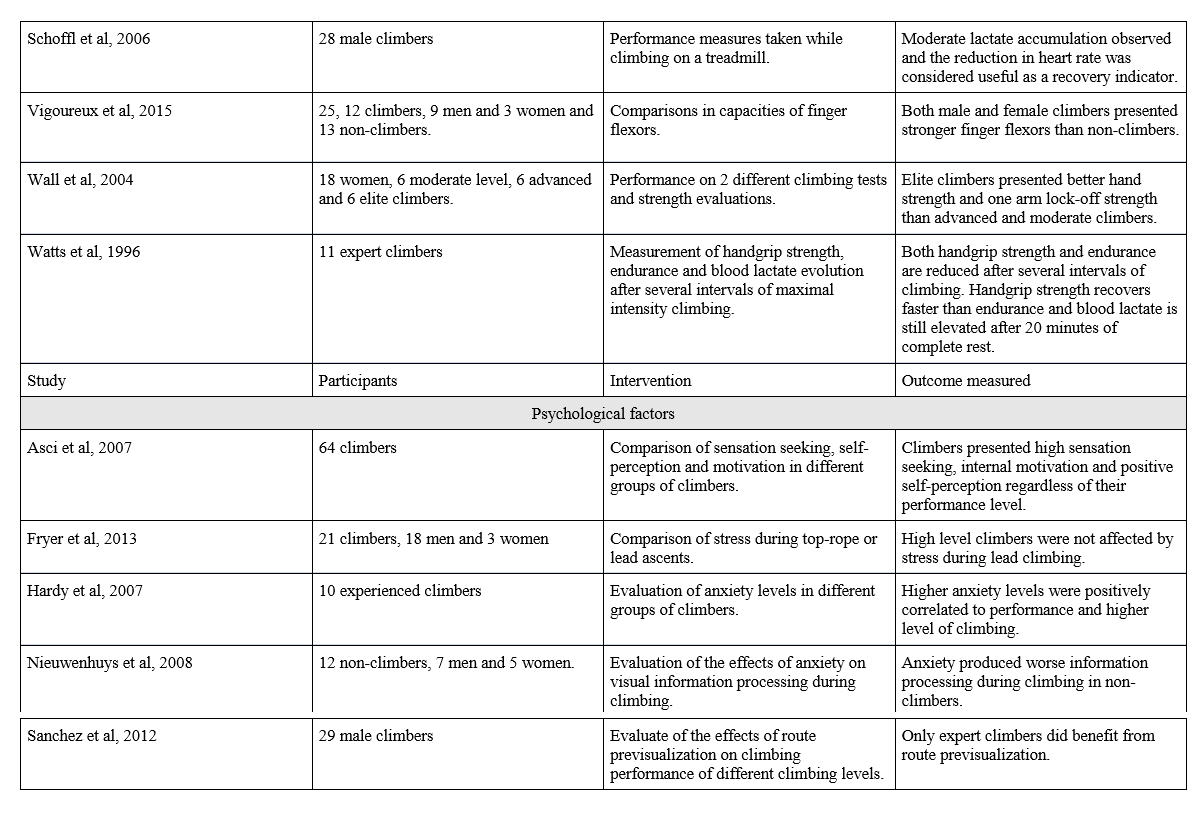 Climbing and cardiorespiratory fitness
One study (Billat, Palleja, Charlaix, Rizzardo, & Janel, 1995) analyzed the metabolic requirements during the completion of two competitive sport climbing routes and reported that submaximal levels of VO2max  (37.7 to 45.6 ml/kg/min) were reached together with moderate blood lactate concentrations (4.3 mmol.1-1 to 5.7 mmol.1-1) and high but no maximal heart rate were obtained (77 to 85.5% of maximal heart rate). When the same values were analyzed in highly trained boulderers (La Torre, Crespi, Serpiello, & Merati, 2009) slightly higher values were obtained (6.6 mmol.1-1) VO2 consumption and heart rate have been found to increase with wall inclination until reaching submaximal (VO2) and maximal (heart rate) values (Balas et al., 2014). Similar results were obtained (Mermier, Robergs, McMinn, & Heyward, 1997) in another study that also reported a non-linearity between heart rate and VO2 consumption during rock climbing activities.
These values have also been reported in non-competitive climbers (Rodio, Fattorini, Rosponi, Quattrini, & Marchetti, 2008), with VO2max values of around 40 ml/kg/min and oxygen consumption during climbing efforts that didn't surpass 28.3 ml/kg/min. Another study (P B Watts, Daggett, Gallagher, & Wilkins, 2000) reported a VO2 plateau despite a continuous increase in blood lactate, which would explain a higher energy demand than the one indicated during VO2 recording during climbing. VO2 and blood lactate values didn't return to normal even after 20 minutes of complete rest. These results coincide with the findings reported by another study (R. C. de M. Bertuzzi, Franchini, Kokubun, & Kiss, 2007) which reported that the main energy contribution during rock climbing comes from the aerobic and anaerobic alactic systems. Other researchers (Limonta et al., 2018) have suggested that care should be taken while estimating energetic demands based on VO2 consumption while climbing.
Oxygen cost per movement has also been reported as an reliable tool to measure performance in climbers (R. Bertuzzi et al., 2012). The aerobic component of the sport was proven in an intervention study with sedentary subjects who completed a climbing training intervention. Climbing produced improvements in body composition and increases in VO2max, muscle strength and endurance (Aras & Akalan, 2016), findings similar to those obtained with moderate endurance exercise such as running or cycling with sedentary subjects.
Strength, endurance and anthropometric factors in climbing
A study (Grant, Hynes, Whittaker, & Aitchison, 1996) compared the differences in endurance, strength, flexibility and anthropometry in elite rock climbers, recreational climbers and non-climbers. Elite rock climbers performed a significantly higher number of pull ups and lasted longer during a bent-arm hang. Also, better climbing ability was correlated to increased hip flexibility, shoulder girdle strength and endurance as well as greater finger strength. Increased finger strength in elite climbers was also reported even when this group was compared to advanced climbers (Ozimek et al., 2017). Finger strength in elite climbers is also a result of years of adaptation to climbing stimulus which results in increased thickness of flexor tendon pulleys and capsules of the distal inter-phalangeal joints (Schreiber, Allenspach, Seifert, & Schweizer, 2015).
Similar studies have been performed with female climbers, (Grant et al., 2001) showing again significantly greater finger strength in the elite group compared to the amateur and non-climbing groups. Another study found similar results (Wall, Starek, Fleck, & Byrnes, 2004), where climbing-specific hand strength and one-arm lock off strength adjusted to body weight were higher in elite female climbers than in amateur or non-climbing matched groups and also predicted climbing performance.
One study (Mermier, Janot, Parker, & Swan, 2000) performed a complete anthropometric, physiological and demographic analysis of 44 climbers which were classified by their performance levels. The study concluded that a 58.9% of the total variance in climbing performance could be explained by trainable characteristics, especially strength and endurance. Researchers refuted the belief that specific anthropometric characteristics were needed in order to perform in the sport. These results were verified in another more recent piece of research which found that anthropometric factors explained only a 4% of climbing performance while trainable variables explained a 46% (Laffaye, Levernier, & Collin, 2016).
An old study  (P. Watts, Newbury, & Sulentic, 1996) investigated the effects of repeated ascents of a sport climbing route in a sample of 11 expert climbers. The intensity was maximal and pre-post measurements of blood lactate, handgrip strength and endurance were taken. The authors reported correlations between variation in performance in handgrip tests, climbing time and number of laps completed. Variation in blood lactate was only correlated to handgrip strength decreases. Both handgrip strength and endurance remained depressed after 20 minutes of complete rest. Related to this, (Schoffl, Mockel, Kostermeyer, Roloff, & Kupper, 2006) reported lactate accumulations after maximal climbing specific tests on a climbing treadmill. Results were lower (5.0 ± 1.3 mmol.1-1) than in common endurance sports such as running or cycling mainly due to utilization of smaller muscle groups in climbing activities. The researchers also reported that climbers could reach maximal heart rate values during maximal tests performed on a treadmill and the heart rate drop during the rest could explain the recovery ability specific of the sport.
As to no significant results, (Grant et al., 2003) compared climbing specific finger strength endurance in amateur climbers, rowers and aerobically leg trained athletes. No significant differences were seen between the study groups although self-selection was reported as a confounding factor. (Cutts & Bollen, 1993) investigated the differences in pinch and whole hand grip strength between competition climbers and matched controls. Although the climbers' group reported significantly higher levels of strength, its levels didn't correlate with climbing ability. Only pinch grip strength increased with climbing experience.
Several researchers (MacLeod et al., 2007) studied the factors that could explain the endurance performance in intermediate rock climbers when compared with a matched control group. The researchers found that muscle re-oxygenation during rest periods could predict climbing endurance. These results have been reported in further research (Simon Fryer et al., 2015) that supports the role of re-oxygenation even in the absence of an increased blood flow. Re-oxygenation can be improved through hand shaking during rest periods, with results varying between boulderers and sport climbers due to the length of the rest and activity times (Balas et al., 2016).
A better re-oxygenation during rest periods can result in a decrease in strength loss in the finger flexor muscles, which are crucial for the climbing ability (Philippe, Wegst, Muller, Raschner, & Burtscher, 2012) and have been shown to be stronger in climbers than in non-climbing populations (Vigouroux, Goislard de Monsabert, & Berton, 2015). Fatigue previous to the effort in finger flexors have been shown to impact climbing performance more than fatigue in other muscle groups such as lumbar flexors or shoulder adductors (Deyhle et al., 2015). Finally, forearm flexor oxidative capacity has been reported as one of the best predictors of climbing performance in elite athletes (Simon Fryer et al., 2016) while no differences in oxidative capacities exist between boulderers and sport climbers (S Fryer et al., 2017).
Finally, elite climbers have been reported to have better load balance application than beginners (Donath, Roesner, Schoffl, & Gabriel, 2013).
Climbing and psychological factors
The first study reviewed (Asci, Demirhan, & Dinc, 2007) examined diverse psychological determinants such as sensation seeking, ability self-perception and intrinsic/extrinsic motivation in a group of Turkish climbers divided by their experience and performance level. The study concluded that climbers had internal motivation, positive self-perception of their abilities and high sensation seeking independently of their experience and current level. Another study (Hardy & Hutchinson, 2007) found a positive correlation between levels of anxiety and performance in climbers. Even in the same subjects, a higher effort was also correlated to increased levels of anxiety. Contrarily, anxiety in beginners has been linked to poorer performances (Nieuwenhuys, Pijpers, Oudejans, & Bakker, 2008). Route previsualization influences climbing style and has been shown to benefit mainly the expert climbers (Sanchez, Lambert, Jones, & Llewellyn, 2012). Higher level climbers report also better stress control, which results in similar performances between top-rope and lead climbing, an equality that is not found in beginners or amateur populations (S Fryer, Dickson, Draper, Blackwell, & Hillier, 2013).
DISCUSSION
This is the first systematic review about performance factors in sport climbing and bouldering. The main findings of this review were:
Climbing has moderate cardiorespiratory demands, with reached VO2max levels of 30-40 ml/kg/min, blood lactate levels of (5 to 10 mmol/l) and submaximal heart rate (70 to 85% of the maximal heart rate). Thus, even elite climbers don't show high cardiorespiratory capacity.
Climbers need significant upper body strength in general and in forearm and finger flexors in particular. Re-oxygenation capacity even in the absence of blood flow in these muscles seems to be the performance limiting factor in repeated intervals of exercise.
Evidence shows that anthropometric factors, despite what was previously believed have only a small role in climbing performance. Amongst them, weight seems the most relevant factor due to its role in the relative strength capacity, as it has been demonstrated in hand grip tests.
Only a few studies have investigated psychological performance factors in climbing. The most important findings are that route pre-visualization may favor experienced climbers who also show better stress control than beginners.
Figure 2 shows the main performance factors evaluated during the studies that compose this systematic review.
Practical applications
The results obtained in this systematic review could be used in order to design specific training programs based on scientific evidence especially given the future nature of climbing as an Olympic sport. On the other hand, comparative studies between elite and beginners have shown that the non-trainable factors could be used as a potential tool for selection of promising athletes. This systematic review was not designed to analyze the research around nutritional status and climbing performance although the authors acknowledge the importance of dietary manipulation and supplementing (Cabañes, Salinero, Coso, José, & Martín, 2013) in order to change body composition and boost specific energy source utilization (Potter & Fuller, 2015).
Future research
In the following years, studies should focus on correctly assessing training loads in climbing. Until now, this has been done using subjective effort scales and methods that have derived from maximal repetition scales used in strength training (Michailov, 2013). The slow but steady appearance of power measurement tools in sports such as cycling or running may represent future directions for workload assessment in sport climbing and bouldering (Smith & Bird, 2001).
Correct differentiation between beginner, intermediate and elite groups should also be emphasized in a sport that is in constant evolution (N Draper et al., 2011). As new tools have emerged in order to facilitate transfer from climbing grades to statistical analyses and grouping divisions (Nick Draper et al., 2015), future research should correctly assess real performance levels of climbers included in comparative studies and therefore properly establish differences between true elite and advanced or beginner climbers.
Limitations
This systematic review originated from the need of gathering all the scientific research around climbing and performance factors and reviewing all the most important information in order to provide a science-based document for coaches, athletes and researchers around this subject. Thus, a great variability of studies with heterogenous data were included. 
The current systematic review excluded non-English and non-Spanish publications; therefore, a possible language bias could appear. The main limitation of this systematic review is the incomplete data provided by the range of heterogeneous studies analyzed during the review: sample sizes were small, performance assessment differed between studies and length of interventions varied substantially, besides the fact that the objectives varied considerably between studies.
CONCLUSIONS
Climbing is an intermittent sport that is characterized by a constant fight against gravity. Several trainable performance factors such as upper body strength, specific forearm and finger flexor strength, reoxygenation capacity in the local muscles and power to weight ratio can be seen consistently among elite climbers. Psychological factors such as previsualization capacity or stress control have been described although the research around these subjects is scarce. Anthropometric factors have a smaller role than usually described in common literature. Cardiorespiratory fitness among elite climbers is moderate and similar to the values obtained in other intermittent sports.